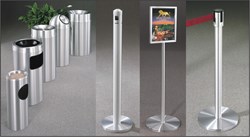 A coordinated, "designer" entranceway/lobby year round reflects on how well a building is being managed and the quality level of what visitors can expect inside.
Hauppauge, NY (PRWEB) December 26, 2013
In preparation for the New Year and beyond, executives at USA manufacturer Glaro Incorporated say that now is the right time to make sure building entranceways and lobbies are properly equipped. The lobby furnishings manufacturer says that a polished, coordinated front of the house appearance is tied to financial gains in commercial buildings, especially for retailers and hotels.
"First impressions matter, especially during the Holiday season. But it is equally important to ensure that your lobby's appearance is polished during non-holiday timeframes, which make up the bulk of the year," says Executive Vice President Bob Betensky. "A coordinated, "designer" entranceway/lobby year round reflects on how well a building is being managed and the quality level of what visitors can expect inside."
To help building managers present an attractive, functional lobby in 2014, Glaro Inc. shares the following 4 design tips:
Map out visitor flow
First, map out how visitors will flow though your building and then specify what furnishings and accessories they will need in each area. Start with the entranceway and lobby. A few of the essential products used by entrances are smokers posts, sign stands and outdoor waste receptacles. Inside the lobby, you may have wet umbrella bag dispensers, sign stands, carts, planters, crowd control equipment, waste receptacles and recycling stations. All of these items can be coordinated to make the best possible presentation to building visitors.
Stick with one main material
Once you know exactly what types of products you need, select the right materials. Pick a solid, fireproof material such as metal and make your material standard. Once you do, you can select a finish (or a combination of finishes) that will be applied. Metals can be finished with virtually any look you would like, from metal color finishes to baked powder coat finishes in a range of colors. Glaro Inc. is known for manufacturing durable metal products that are sleek looking. "Metal enables you to maximize your options," says Plant Manager Bob Glass.
Select matching or coordinated finishes
The finish(es) you select should be easy to maintain and easy to keep clean without using harmful chemicals. If you have five different products, each with a unique design, select a finish that can be applied to all of your products. Avoid a patchwork appearance.
"Having the same finish ties everything together visually," says Plant Manager Bob Glass. "Or you can mix and match a few finishes to create variety. Designs can vary, but finishes should always coordinate." For example, if you have recycling receptacles in one area of the building that match the design of waste receptacles in your lobby, you can create visual ties throughout your building. "Picking a single manufacturer simplifies the entire purchasing process and can even save you money," added Mr. Betensky. "Be sure early in the shopping process that a manufacturer can provide the exact finishes you would like."
Customize with your logo
Finally, have your logo or message imprinted on lobby furnishings for branding purposes. A hotel, for example, can have its logo silk-screened onto waste receptacles, recycling receptacles, crowd control straps, signs, and bellman cart carpeting.
"Functional items like receptacles can be customized and personalized. Choose a manufacture that is nimble enough to produce the products you need on demand," added Neal Glass.
Any retailers, hotels, government buildings, commercial office buildings, hospitals and museums that need further assistance with lobby furnishings in 2014 can contact Glaro Inc. at (631) 234-1717 or learn more on glaro(dot)com.
About Glaro Incorporated:
Glaro Inc. (glaro.com) is a leading USA manufacturer of commercial and consumer aluminum and steel products sold directly to distributors/dealers for almost 70 years. All products ship in 1 to 3 days. Product lines include bellman and luggage carts, platform trucks, trash receptacles, recycling receptacles, smokers' posts and receptacles, crowd control posts and systems, safety barriers, signs, sign frames, directories, menu display stands, coat hanging equipment, coat trees, umbrella stands, wet umbrella bag holders, metal planters, and key drop boxes. The company is known for its quality merchandise and its ability to consistently quick ship all products. The customer service department provides unusually prompt personal service and is sensitive to the needs of dealers.