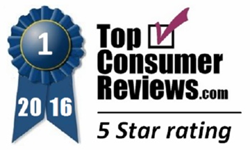 For their variety, freshness, and excellent customer service, Lobster Gram is our preferred retailer for buying Lobsters in 2016.
(PRWEB) December 21, 2016
TopConsumerReviews.com recently gave a best-in-class 5 star rating to Lobster Gram, a leader among online retailers of Lobsters.
Lobster often comes to mind when one thinks of delicious seafood. In the past, local grocery stores sometimes had a tank with live lobsters for purchase, but many supermarkets no longer have this as an option. Finding delicious, fresh lobster is particularly challenging for many people, especially for those who live in land-locked areas where fresh seafood is not available. Shopping online for lobsters is an affordable and easy way to get them delivered to the doorstep with just the click of a mouse.
"Whether you want pre-cooked or live lobsters, Lobster Gram is the place to shop," according to Brian Dolezal of TopConsumerReviews.com, LLC. "For 25 years, they've been bringing fresh seafood, chowders, desserts, and even filet mignon directly to customers. Lobster Gram offers about a dozen different packages with live lobster alone, which can include many extras depending on the package you choose. And, if you're cooking a live lobster for the first time, you'll appreciate the helpful instructions that come with your order - or check out the videos on the website that will walk you through the process. Overnight shipping is available if you need fresh lobster right away for a special occasion. For their variety, freshness, and excellent customer service, Lobster Gram is our preferred retailer for buying Lobsters in 2016."
To find out more about Lobster Gram and other sellers of Lobsters, including reviews and comparison rankings, please visit the Lobsters category of TopConsumerReviews.com at http://www.topconsumerreviews.com/lobster/.
About Lobster Gram
Lobster Gram offers a large selection of live Maine lobsters, cold water and exotic lobster tails, fresh-caught seafood, steakhouse-quality chops, and delicious seafood side dishes and desserts from around the world through its gourmet food delivery services. Founded in 1987 and headquartered in Chicago, Ill., with an 18,000 sq. ft. distribution center in Biddeford, Maine, Lobster Gram focuses on providing a great gourmet experience with every product and takes pride in shipping its high-quality seafood products, "Fresh from Our Shore to Your Door".
About TopConsumerReviews.com
TopConsumerReviews.com, LLC is a leading provider of independent reviews and rankings of hundreds of consumer products and services. From Lobsters to Steak and Seafood, TopConsumerReviews.com delivers in-depth product evaluations in order to make purchasing decisions easier.