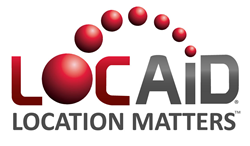 Working with U.S. Cellular gives our customers even further assurance that the privacy protected services they receive from us will support all their BYOD requirements.
San Francisco, CA (PRWEB) April 21, 2014
Locaid, the world's largest Location-as-a-Service (LaaS) company, today announced that U.S. Cellular customers who give consent are now locatable on Locaid's enterprise location platform. The companies have been working together since January 2013 and commercially launched the service earlier this year following a successful beta period.
The integration of U.S. Cellular highlights the growing importance of "Bring-Your-Own-Device" (BYOD). Enterprise CIOs, tasked with managing a growing variety of employee devices on multiple networks, now face ever increasing complications with the rise of the no-contract phone. With more consumers than ever before choosing to go with a monthly plan, Location-Based Services (LBS) offered via Locaid are emerging as central to minimizing the risks of enterprise BYOD. Use cases include effective mobile workforce management though geofencing and real-time notifications, and the use of location data as an additional layer of authentication to prevent the threat of information getting into the wrong hands when personal devices are being used.
By giving Locaid's enterprise customers access to U.S. Cellular's 4.9 million customers, including no-contract customers, U.S. Cellular is playing an increasingly important role in enabling BYOD for the country's mobile workforce.
"BYOD boasts impressive benefits, and location data helps minimize its risks," comments Rip Gerber, President & CEO, Locaid. "Working with U.S. Cellular gives our customers even further assurance that the privacy protected services they receive from us will support all their BYOD requirements."
Locaid customer 3Cinteractive, the mobile platform and services company that helps its clients link consumer engagement with business value, is taking advantage of the U.S. Cellular connection for its enterprise mobile applications. "Locaid helps 3C redefine mobile with location," comments John Duffy, CEO, 3Cinteractive. "Locaid not only continues to provide 3C with the highest level of customer service but the addition of U.S. Cellular means we can continue to deliver industry leading mobile solutions to our customers."
About Locaid
Locaid is the world's largest LaaS (Location-as-a-Service) company. Locaid runs "location in the cloud" with the most robust, privacy-protected, Omni-Location™ platform available. Locaid can determine the physical location of your customers, employees or assets, anywhere, instantly. With a footprint that extends to over 5 billion connected devices across the globe, including network mobile location on over 360 million mobile devices, Locaid helps enterprises and developers be hyper-local, reduce fraud, increase productivity, gain consumer insight, comply with regulations, drive revenue and save lives. Locaid is the largest and preferred location gateway for the major carriers in the Americas including AT&T, Boost Mobile, Cricket, Rogers, Sprint, TELUS, T-Mobile, U.S. Cellular, Verizon and others. The world's biggest brands, agencies, financial institutions, software companies, enterprise infrastructure providers, mobile app developers and M2M platforms get location from Locaid. Location Matters™. Locate us at http://www.loc-aid.com, @locaid and http://www.facebook.com/Locaid.
About U.S. Cellular
U.S. Cellular rewards its customers with unmatched benefits and industry-leading innovations designed to elevate the customer experience. The Chicago-based carrier has a strong line-up of cutting-edge devices that are all backed by its high-speed network that has the highest call quality of any national carrier. Currently, nearly 90 percent of customers have access to 4G LTE speeds. U.S. Cellular was named a J.D. Power and Associates Customer Champion in 2014 for the third time in four years. To learn more about U.S. Cellular, visit one of its retail stores or uscellular.com. To get the latest news, promos and videos, connect with U.S. Cellular on Facebook.com/uscellular, Twitter.com/uscellular and YouTube.com/uscellularcorp.