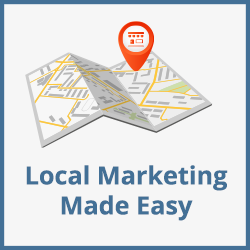 Save the countless hours we have invested in the process of creating a high-quality, step-by-step and exclusive training course especially for local business owners and consultants
Tres Cantos (Madrid) , Spain (PRWEB) March 30, 2015
"Internet Business How To" has published its new Guide "Local Marketing Made Easy". The course teaches how to increase the productivity of any offline business by applying the latest local marketing techniques on the web.
With this high quality local marketing training local consultants will be able reach a significant amount of "additional" offline customers and generate way more leads and sales. Using the premium and updated marketing techniques they will acquire satisfied customers happy to pay their services.
These days, the success of most offline business depends on many factors that play together all at the same time: the type of customers who visit the business, the social recognition and interaction on social networks, the mobile presence a business has, and many other factors.
A business may have the best products or services and the most beautiful and engaging website, but if local businesses don't implement local marketing strategies on the internet for their offline business, they won't be able to connect to lots of potential customers.
People use the web all the time; hence it makes sense to establish a clear and strong online presence for the offline business by applying some vital local marketing strategies.
We don't have a choice! Now, the question isn't whether we should do local marketing; the question is how well can we do it?
In this highly effective local marketing training the readers will learn exactly how to do it. This is the ideal training for local businesses and local marketing consultants.
Finally, busy business people don't have to worry about wasting their time, implementing ineffective local marketing strategies online or spending their money on additional training, because this course covers all they need to know. They only have to follow the guide and applying the knowledge acquired.
This exclusive training will take business owners and local consultants by the hand and show them step-by-step, topic by topic, and tool by tool, what they really need to know in order to dominate local marketing the easiest way possible, using the most effective tools and in the shortest time.
Yes, businesses will have the opportunity to easily and quickly get their offline business above the competition by applying the latest and most effective local marketing techniques!
Introducing: Local Marketing Made Easy!
This exclusive training is more than they ever need to get their businesses where they really want them to be, by using the immense power of local marketing on the web. This training is here to give businesses exactly what they need in order to reach their business success expectations.
Here are some of the tips that the readers will discover after downloading the training…
Chapter I: Learn what local marketing is all about; we will give the readers the easiest definition for it, as well as how it is generally used for offline businesses.
Chapter II: Learn why local marketing is such a powerful marketing approach to take the productivity of any offline business to any level they want. They will know the benefits that local marketing on the web can bring to their own offline business or any other offline business – and will learn about 10 facts that will open their eyes to the immense power of local marketing done on the web.
Chapter III: Learn about some really nice local-marketing power tools, highly effective tools that have been created to make local marketing amazingly simple for local businesses, even if they haven't tried local marketing on the web in the past.
Chapter IV: Learn how to do local marketing the right way from start to finish using four of the most effective and easy-to-apply local marketing methods. We will cover topics like Local Search, local marketing on Social Media, local marketing on Mobiles and Local Lead Generation.
Chapter V: Learn about several highly effective local marketing tricks local businesses can apply to definitely see some great results in their local marketing efforts – tricks used by experienced people in the field.
Chapter VI: Learn about a few amazing local marketing case studies. These are actual examples we have taken from the internet to show the readers that local marketing actually works.
Chapter VII: The training will give the readers a list of several local marketing do's they must be sure to include and a list of several local marketing don'ts they must be sure not to do.
But, that's not all. Readers will also get...
A Cheat Sheet: This cheat sheet is a handy checklist that can be printed out and uses to easily take action at every step of the process. It breaks the whole training up into easy-to-follow steps, so the readers can make sure they have every single piece of advice taught in the training at their fingertips. This helps tracking their progress and will help them reach their goals.
A Mind Map: This is a helpful mind map outlining the complete training. It gives the reader an overview of the whole system they are going to apply. They can print it out as well, for better handling.
A Top Resources Report: Here the reader will have access to a complete and top quality niche report regarding the market potential of this amazing topic: videos, tools, training courses, blogs, forums, affiliates programs, demographics, webinars, and infographics.
Local marketing is extremely easy to manage nowadays. It's the same as with most things in life: things aren't typically that difficult. One just needs to know where to find all of the information and learn how to properly use and work with it.
The same can be said for local marketing. Here they only have to follow the footprints that are clearly explained in the course, so they can do it in the shortest time ever. local marketing has hit the market to stay.
This is a great chance to discover the best and most effective local marketing techniques local consultants can apply on behalf of any offline business.
How much would it cost to get a business and services out there to thousands of people in the local home town? How much is being spend doing so with local marketing? Yes, today, following the course's guidance they can do it now absolutely free.
Investing in is this exclusive training will save businesses a lot of time and frustration; saving countless hours that have been invested in the process of creating this high-quality, step-by-step and exclusive training course especially for local business owners and consultants.
The "Local Marketing Made Easy" Exclusive Training comes with a 100% Money Back 30-Day Guarantee! Note: There is also a video version available as upgrade to the PDF guides.
See more here: http://internetbusiness-howto.com/?p=18610