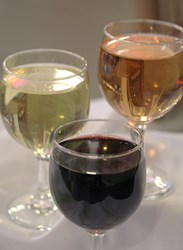 'Premium Gulf seafood paired with delicious yet affordable wine is a winning recipe for Valentine's Day,' said Barclay Anthony, CEO of Sea Island.
San Antonio, TX (PRWEB) February 11, 2014
To celebrate Valentine's Day, Sea Island Shrimp House is offering half-price Woodbridge wine by the glass or bottle beginning Friday, Feb. 14 through Sunday, Feb. 16 at all six San Antonio area locations.
The first 25 guests at each location to order a glass of half-price wine on Valentine's Day will receive a special gift from Woodbridge by Robert Mondavi. The Sea Island special half-price Woodbridge wine prices are $1.90 per glass or $6.50 per bottle.
Sea Island Shrimp House offers great wine and great seafood that is sure to make this Valentine's Day special. Woodbridge wine by Robert Mondavi is marked by bright fruit flavors and smooth finishes, making the cabernet, chardonnay and white zinfandel wines offered an ideal match for Sea Island's savory seafood.
Fresh from the Texas Gulf coast, Sea Island Shrimp House is San Antonio's locally-owned and operated source for delicious, affordable seafood and family-friendly dining. Sea Island has been voted Best Seafood Restaurant in San Antonio by the Readers' Choice Awards presented by the San Antonio Express-News since it began in 2000, and won SA Current's "Best Seafood" category in San Antonio in 2013. To learn more, visit http://www.shrimphouse.com/.
About the company:
Sea Island Shrimp House, a local San Antonio seafood restaurant icon, has been sourcing and serving the freshest, wild-caught Gulf seafood since opening its first location in 1965. The restaurant's family-friendly atmosphere, delicious food and affordable prices have made this a San Antonio favorite for more than 47 years.
Family-owned and operated from the beginning, the six San Antonio locations serve only premium fresh seafood that features the best shrimp, scratch cooking and a passion for flavor and value. Sea Island Shrimp House is known for food that is simple, fresh, fast and affordable. They offer numerous seafood specials, as well as kid's meals. San Antonio agrees: Sea Island has been voted "Best Seafood Restaurant" in the San Antonio Express News' Reader's Choice Poll since it began in 2000.