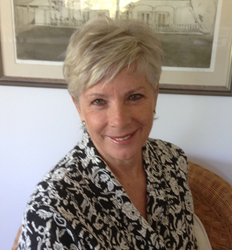 For clients whose market spans several suburbs or cities, I am now writing individual web pages that include general and demographic information about those towns
(PRWEB) June 27, 2014
Written content specialist, Kerry Finch, has revealed in an interview today, that her most progressive-thinking clients have recognized the need to include location-focused content in their blogs and website pages. The need, she says, is the result of the changing way we search for information, products, and services.
For her large number of attorney and cosmetic dentist clients, location-focused content is especially relevant.
"All around the world people are increasingly accessing the internet via mobile devices - we all know this" she said. "But what many don't know is that in order to deliver the most relevant results to their customers, the search engines like Google are able to identify where the user is, and they will use this information to find the nearest relevant results to the search query."
"What this means that if you are searching for 'dental impants' or 'workers comp attorney', the first results returned will be located nearest to your current location" she continued. "For searchers, this is a good thing - in most cases people want to find service providers close by. But for business owners, particularly those who service many different areas, it can be difficult to show up in those results."
Ms Finch stressed that she does not position herself as an search engine expert, but she has several consulting clients who are, and this change is obvious in the Briefs she is now receiving.
"For clients whose market spans several suburbs or cities, I am now writing individual web pages that include general and demographic information about those towns, as well as pages about their practise areas" said Ms Finch. "Often, with blog posts, we combine the town with a practise area - there are lot of ways to do this."
"Its important to know that simply mentioning a geographical area does not cut it - there has to be original and worthwhile information about the location for it to have any value. And the days of simply putting a list of towns/suburbs in a footer or on a 'areas serviced' page are long gone."
"I enjoy the changing face of website copy writing, and the flexibility of being able to quickly adjust to changing needs and technologies. Staying in touch with the digital business world via high level forums and applying my marketing and business knowledge with my clients is always rewarding."
"My team and I write web page copy for a variety of businesses, from law firms to plumbers, and we have been fortunate to establish an enviable reputation in the content creation industry. We don't create cookie-cutter material, but really take the time to understand our clients businesses" she said.
Through her website, KerryFinchWriting.com, Ms Finch shares tips and strategies as they emerge.
About Kerry Finch Writing
Led by the businesses namesake, Kerry Finch Writing provides a comprehensive range of written content services to website owners. Current clients include tradespeople, those who operate in the IT environment, law firms in Australia and the USA, cosmetic dentists, natural health and fitness professionals, and property investment specialists.
Combining a business and marketing background with a love of the written word, Kerry Finch is able to interpret client needs and offer the best content solutions for each individual business, in a friendly and personal way. Her client feedback can be seen at http://www.KerryFinchWriting.com/Testimonials. She has assembled and trained a team of writers (Australian and North American) to help her deliver on projects to exacting standards, but always at reasonable prices.
More details about the business can be found at http://www.KerryFinchWriting.com .