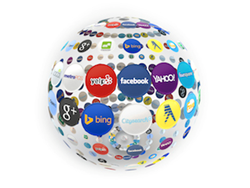 If search engines can't find your business accurately, how can customers?
Castro Valley, CA (PRWEB) August 06, 2015
Award-winning website design and digital marketing agency, KO Websites, Inc. (http://www.ko-websites.com), is announcing a new local listing and listing monitoring service that can save small companies hundreds of man-hours per year. This new service, called 'KO Local' is yet another marketing weapon bundled in their very popular 'All n1 Power Plan.' The 'All n1 Power Plan' is a full service online digital marketing package for small and medium size companies, who don't have inhouse SEO, social media and online content experts. The new 'KO Local' listing service can also be purchased separately by micro companies, where the KO All n1 Plan may be more realistic for their needs.
"Local small businesses, particularly those with storefronts, must be sure at a minimum, their online listings, social media channels, and website all have a consistent brand name, address, and phone numbers (NAP)," says Ken O'Donnell, KO's founder and President. "For starters, search engines like Google look for consistency across online listings as one of its over 200 signaling factors for local page search ranking. If the search engine sees conflicts in information, the company will get less credibility and rank lower. Additionally, you never know how/where a potential consumer may stumble upon your listing, so accuracy is of the utmost importance."
Today with mobile search playing such a huge role in B2C marketing, accurate and well placed local rankings play an even more important role than ever. "The funny thing is, we ran our own brand through this new system which checks 50+ social and listing websites and we found a half dozen discrepancies. A few were severe! After correcting the errors, we found ourselves back on top, ranking well in Google places again," said O'Donnell.
The new 'KO Local' program allows KO Websites to manage the NAP consistency for businesses across 50+ search engines and social sites, including Yahoo, Bing, Yelp, Google+ and many, many more. "We're able to monitor duplicate NAP listings with incorrect addresses and take necessary action immediately to resolve the issue and suppress duplicates," says O'Donnell. "With practically everyone having access to a computer or carrying a mobile device, what it comes down to is this: If search engines can't find your business accurately, how can customers?"
About KO Websites, Inc.
KO Websites, Inc. is an award-winning San Francisco Bay Area online marketing firm. In addition to full service web design, hosting and first in class search engine optimization (SEO), KO offers a full service digital marketing solution (All n1 Power Plan) that includes social media marketing, blogging, email, video, reputation monitoring, paid social advertising and AdWords services.
For Information on Digital Marketing (SEO, social media, etc), visits KO Websites sister brand at SEO PRO's http://www.seopro.PRO. For information on Web design and the KO company, vist http://www.KO-websites.com