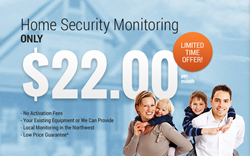 It only takes a burglar 8-12 minutes to get in and out of your home with your valuables. Wouldn't it be worth it to spend a little bit of time and money to protect your valuables and, most importantly, your family?
Seattle, WA (PRWEB) September 09, 2013
Home Security Northwest, a local home security systems provider, released an article earlier this week with tips for do it yourself home security. Because there are so many burglaries each year, there is always a good reason to have home protection. Setting up can be a difficult process, especially for first timers. These tips can help simplify the do it yourself process.
The article gives four informative tips, focusing first on choosing the appropriate system for homeowners. Wireless home security systems are some of the most convenient and effect solutions for homes of every size. The key benefit is that they require no wiring, which means they fit any house, no matter how elaborate.
Camera systems are also recommended, along with a number of common sense security measures. Simple things like locking your windows and storing away your valuables at night go a long way to prevent home burglary. If a home looks occupied, burglars are far less likely to attempt breaking in. To achieve this look, the article recommends homeowners leave either a car parked in their driveway or leave a light on near the front of the house.
About Home Security Northwest
Home Security Northwest is a local security systems provider dedicated to protecting homes in the greater Snohomish, Everett and Marysville areas. Their products and services are designed to be affordable with a variety of flexible and adaptable solutions. They offer high quality, local customer service and fast responding maintenance services.
You can contact Home Security Northwest at:
Home Security Northwest,
1208 10th St #101 Snohomish, WA 98290
(425) 312-6008