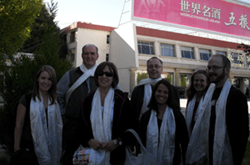 Go Tibet hiking, Trekking adventures! Be healthy, active and enjoy the wonders of Tibet in 2015-2016!
Lhasa, Tibet (PRWEB) March 11, 2015
Travelers who embark on a Tibet trekking in 2015 will discover that it is by far one of the best ways to experience Tibet's stunning high altitude landscapes. The best part is that there are routes accessible to all levels of skills and experience. Tony of Tibet Ctrip Travel Service-TCTS (Tibet travel agency in Lhasa http://www.tibetctrip.com) has been operating in Tibet for over 10 years and shares advice for planning the perfect adventure.

Invest time in research Tibet's most popular routes; successful travelers focus on those that are in line with their group's interest and experience level. The air is thin and the terrain is sometimes unforgiving so it's best to opt for an easier adventure to ensure everybody enjoys the experience.
When booking a Tibet trekking tour be sure to choose the Tibet travel company wisely. While a quick Google search yields hundreds of options keep in mind that not all are of equal quality. For example, TCTS employs experienced native Tibetan guides and provides equipment like tents, sleeping bags, and cooking gear while others may not. Ask lots of questions when working with potential travel companies.
Keep in shape before arriving for the tour. High altitude trekking can be very physically demanding; while this does not mean one needs the strength and endurance of an athlete, keep in mind that exercising a few times a week in the months leading up to the trek can go a long way.
Travelers agree that trekking in Tibet is worth every bit of time and money spent. Whether the group is well seasoned or setting out on their first big trekking adventure an experienced travel agency can help set up a tour that meets everyone's needs. The 2015 trekking season is coming up soon so now is the time to start planning.