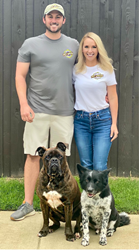 As dog owners and pet lovers, Pet Wants gave us the perfect opportunity to do just that. We are here to support our customers with the information they need to make decisions for their pets. - Nick Anderson
PLANO, Texas (PRWEB) June 02, 2021
Local couple Nick Anderson and Sandi Whitcomb are pleased to announce the launch of their new pet-focused business – Pet Wants West Plano.
Pet Wants' specially-crafted, private-label pet food formulas are made in small batches with fresh, natural ingredients enhanced with vitamins and minerals for a complete and balanced diet in every bowl, all made in the USA. Pet Wants West Plano has multiple blends of dog and cat food formulas as well as healing salve, calming balm, anti-itch spray, paw wax and more. Pet Wants West Plano is a mobile business that offers free, personal delivery throughout southern Collin and Denton counties, including North Dallas, Plano, The Colony, Lewisville, Allen, Richardson, Carrollton, Addison and the surrounding areas.
"We fell in love with the Pet Wants values and products. As pet parents, we often care more about what goes in our pets' bodies than what goes in our own. Our pets are only with us for a relatively short time so we fell in love with the fact that Pet Wants gives us the opportunity to educate and provide our community with the knowledge, resources, and products to help our loved ones live healthy, happy, and longer lives," Whitcomb said.
Pet Wants has a money-back guarantee on the freshness and quality of the food, the company only sources the best salmon, chicken, lamb, brown rice and other ingredients available. There's no sugar added, no fillers and no animal by-products and Pet Wants never uses corn, wheat, soy or dyes, which makes the food great for animals with allergies.
Whitcomb grew up in Allen, Texas, and is a huge animal lover. Her career has ranged from life skills coach for children with special needs, to behavior analyst, to her most recent career in the mortgage industry. Sandi is involved with and actively donates to the American Warrior Initiatives, which helps fund the purchase of service dogs for United States veterans. Anderson grew up in Southern Oklahoma and has had animals throughout his life. He played college basketball at East Central University and graduated with an MBA in finance before pursuing a career in banking, which brought him to the North Dallas area. Whitcomb and Anderson have two dogs – a rescue border collie mix named Forrest and a bulldog named Al.
"After working our entire careers in the corporate world we realized we wanted to do something for ourselves, in an industry we cared about, that also allowed us to give back to the community. As dog owners and pet lovers, Pet Wants gave us the perfect opportunity to do just that. We are here to support our customers with the information they need to make decisions for their pets," Anderson said.
"Pet Wants is also unique because of our ability to create a plan for each individual pet. With our many blends of pet food and treat options, there's no one-size-fits-all bag of food for every pet," Whitcomb said.
To learn more about Pet Wants West Plano, call 469-768-0372, email NAnderson@PetWants.com or visit http://www.PetWants.com/WestPlano.