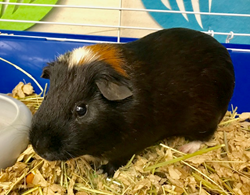 I love teaching others how to best care for animals, and empowering our youth to learn and love animals as well."Joette White, President of Park Cities Pet Sitter
DALLAS (PRWEB) April 02, 2019
Park Cities Pet Sitter is a local dog walking and pet sitting company that regularly looks for ways to serve the community, usually supporting animal welfare related causes. Most recently, Park Cities Pet Sitter has partnered with JL Long Middle School in Lakewood to promote the school's "Zoo Crew" initiative.
Zoo Crew was started four years ago by JL Long science teacher, Michael Jones. When Jones started the club, his goal was to empower the school's 6th-8th grade students to become conservation leaders by addressing animal conservation issues, and to teach them about various animal environments. Zoo Crew now has 60 student members, who work together throughout the school year to love and care for 15 animals that reside at the middle school.
Park Cities Pet Sitter's President, Joette White, supports JL Long's Zoo Crew by providing habitats, food and supplies for the animals, in addition to helping coordinate the care schedules for the animals by working with students and their parents. Zoo Crew's menagerie of animals currently includes semi-aquatic turtles, a tortoise, a corn snake, a ball python, rabbits, guinea pigs and rats. All of the animals are kept in a single private room at the middle school, and different Zoo Crew club students rotate coming before school every morning at specified times to care for the animals. Not only do club members have to learn about each animal's preferred ecosystem and their different biological needs, but participation in Zoo Crew also teaches them responsibility, commitment and time management.
White's eldest son is a student at JL Long Middle School, and was the one that initially alerted her to the Zoo Crew organization and thought she and her company should participate by supporting the club. "I have been in the pet sitting industry myself for more than 20 years, so I obviously love learning about and caring for animals," said White. "But I also love teaching others how to best care for animals, and empowering our youth to learn and love animals as well. All of the Zoo Crew adult volunteers love seeing the students develop bonds with the animals, and enjoy observing how many of them develop deeper interests in science and animal care because of their work with the club. Who knows, maybe some of the students will decide to become veterinarians, biology teachers or other types of pet care professionals simply because their early experience with Zoo Crew awakened their love for animal welfare and conservation!"
JL Long Middle School's Zoo Crew welcomes outside financial support to keep the program running and to purchase needed animal supplies. To donate, please visit https://www.paypal.com/fundraiser/charity/3374619?fbclid=IwAR2RlBkPksCipga9G3JzRrc9vMmO6rCwAMvHjmqCWPYdDhP83fe-P9qWZoI.
About Park Cities Pet Sitter: PCPSI has served the Dallas, Richardson and Plano areas 7 days a week, 365 days a year since 1992, and was recently named the 2017 Business of the Year by the National Association of Professional Pet Sitters. Dog walking, pet sitting, pet taxis, overnight sitting, pet supply shopping, and dog training are some of the many services PCPSI offers. Park Cities Pet Sitter is bonded and insured, and all sitters are employees--not independent contractors. A manager is on-call 24 hours a day to handle any emergencies. Go to http://www.pcpsi.com to learn more.