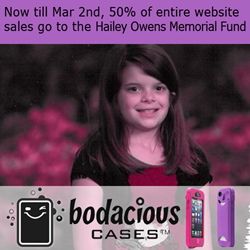 'This little girl was part of our community, she lived less than 30 minutes away from where our American made iPhone cases are manufactured.'- Arianna Russell
Ozark, MO (PRWEB) February 27, 2014
On Tuesday, Feb. 18 2014 in Springfield Missouri a 10-year-old girl by the name of Hailey Owens was abducted on her walk home from school. At the time that this little girl was being abducted many people were carrying on with our daily routine enjoying life. Hailey should have been enjoying her day too.
It will never be understood why someone could do something like this to another human being. The community has come together to remember little Hailey and also to teach other children about the dangers of the world they live in.
This little girl was part of the community, she lived less than 30 minutes away from where Bodacious Cases manufactures their American made iPhone cases. As a local company who is apart of this community as well, their hearts go out to the family and friends of Hailey. Bodacious Cases has decided to help. They are doing "10 Days For Hailey Owens", wondering why 10 days? Hailey was 10 years old when she lost her life, from now until March 2, 2014 Bodacious Cases is donating 50% of the entire website sales to the Hailey Owens Memorial Fund.
People who don't have iPhones can still help by sharing this with anyone they know and also by sharing it on their social media pages. To help Bodacious Cases raise money, visit their website http://www.BodaciousCases.com.
For more information on how to donate click here