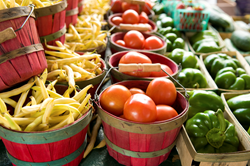 There probably aren't too many high schools out there bringing in chefs to serve organic and locally harvested offerings
Islandia, NY (PRWEB) December 15, 2014
On Tuesday, December 16th, Oliver Ames High School will host a very special "Guest Chef Day," featuring fresh and seasonal products sourced from businesses from the Easton, Massachusetts vicinity, including organic produce. Chef Ryan Hurley from Whitsons School Nutrition and Sara Greeley, Food Service Director at Easton Public Schools, have created a very exciting menu using ingredients from the following local establishments:

The menu was uniquely-crafted in order to include dishes for all tastes and preferences, from comfort food favorites such as Gourmet Grilled Cheese prepared with White's Bakery bread and 3 cheeses from Roche Brothers' Market, to a sophisticated twist on a turkey sandwich, with organic cranberry compote from Langwater Organic Farm.
This initiative is the first of many of its kind, and it validates the fact that the Easton school community is committed to promoting local foods and supporting the local economy. According to Greeley, "We are looking forward to a great day! There probably aren't too many high schools out there bringing in chefs to serve organic and locally harvested offerings!"
This event at Oliver Ames High School is part of Greenleaf Cuisine, Whitsons' local produce initiative. Whitsons School Nutrition is committed to supporting local farmers by sourcing produce locally whenever seasonally available. The main goal of Greenleaf Cuisine is to provide the very best produce the region has to offer, fresh from farm to fork.
About Whitsons School Nutrition
Whitsons Culinary Group provides a wide range of highly customized dining services to public schools, corporations and institutions, with a strong focus on nutritious, high quality menus made from fresh, wholesome ingredients. Whitsons has a long and proud history of excellence and growth since 1979 and currently ranks the 4th largest school nutrition provider in the United States. Whitsons' scope of expertise and services extends to: emergency dining, residential and healthcare dining, prepared meals, and school dining and services.