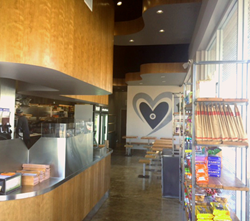 Locali is a disruptive retail model that is nubile with tight cost controls...
Los Angeles, CA (PRWEB) March 20, 2014
Spring 2014 brings another healthy dining and unique retail option to Venice, California. Locali Conscious Convenience, one of the few quick service restaurant brands to feature an almost exclusively organic menu and natural foods market, opens the doors of its third location this month. Positioned for corporate and franchise growth, Locali delivers, in Venice, the prototype for subsequent locations with its future-forward design, award-winning menu, affordable construction and quickly scalable operations model. Just mere blocks south from the renown Rose & Lincoln intersection and one of the top performing Whole Foods in the country, Locali joins it and businesses like Wurstküche, Floyd's 99 Barbershop and Lincoln Place Apartment Homes in the trendy transformation of this Westside enclave, in an area increasingly being referred to as Silicon Beach.
With a location in Hollywood and another in the form of vegan bodega, Localita & The Badasserie, in DTLA, Locali continues to follow a tradition of picking locations that are poised for redevelopment and thus, target a diverse, dynamic customer base. "The Locali customer is any consumer products' dream target - they're the influencers...social media savvy, early adopters...in all shapes, sizes, backgrounds, ages and economic profiles," remarks COO Greg Horos, "There is no one profile for a Locali customer beyond the fact that they are all concerned about the future of food in this world and in turn, committed to eating right."
However, that doesn't mean sacrificing taste. Locali is known for healthy food that simply tastes like it isn't. Their Badass Breakfast Sandwich, Vegetarian Reuben, Glamazon Smoothie, Franklin Phenomenon Panini and Love Bite Salad are only the tip of the iceberg when it comes to menu items for which Locali has received accolades over the years. This appreciation has spurred the company to start packaging their own food line under the moniker of Mindful Mangia! Foods for local distribution in the summer. "We do what we do from an authentic place, serving food that many a customer has described to me as last-meal worthy," states CEO Melissa Adele Rosen, "That has engendered a brand loyalty for us not only in patrons, but in our staff. They feel proud to be a part of something hell bent on making a ripple of positive change. Their belief in Locali's mission and their passion for the quality of our food is contagious to the customers."
With everything from all natural slushies and hemp mylk shakes to vegan condoms and biodegradable toothbrushes, Locali is not your daddy's convenience market. "Locali is a disruptive retail model that is nubile with tight cost controls," Horos notes, "When soaring commodity prices continue to put the squeeze on many of the burger concepts out there, I think that investors will flock to brands such as ours. Investing in QSRs has been quite lucrative and will be especially so for those with the foresight to spot brands that are tuned into consumer desires with a realistic outlook on market forces and curate their offering based on that knowledge."
Ultimately, what drives Locali's growth is the continued desire to bring their healthy deli/market to ever appreciative communities and their passion to franchise the model. "We want to create more small business ownership and garner greater purchasing power in terms of having an influence in the natural foods industry," Rosen says, "With our compassionate approach to customer service and egalitarian environment, there is no pretense to Locali. We want people to have fun and feel good eating better for themselves and their world."
With Venice, Locali adds on newly available features to cater to the neighborhood. There is expanded interior and outdoor seating to accommodate larger groups and special events. This Locali also features a full espresso bar with organic, fair trade beans from Klatch Coffee and bike delivery daily from 11am -9pm via Far West Courier. Within months, onsite wine and beer consumption will be available, in addition to retail. On April 19th, Locali Venice will host an official grand opening party in partnership with several of the natural food brands they carry in store.
About Locali Conscious Convenience
Headquartered in Los Angeles, Locali Conscious Convenience was founded by Melissa Adele Rosen and Greg Horos based on their shared passion for healthy eating and disdain for the status quo. Locali is located in Hollywood at 5825 Franklin Avenue, LA, CA 90028 and in Venice at 701 Lincoln Boulevard, LA, CA 90291. More information and the menu, may be found at http://www.localiyours.com. Both locations offer an app for online ordering powered by ChowNow. Localita & The Badasserie is located in Downtown Los Angeles at 817 S. Los Angeles Street, LA, CA 90014 and on the web at http://www.localita.co. For further queries, email info(at)localiyours(dot)com or Jennifer Nicole of Nightstalk PR, Marketing & Global Event Management at connect(at)nightstalk(dot)com.