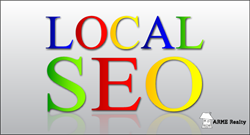 Local SEO done right is a game changer for real estate brokers wanting to sell more homes.
Clearwater, FL (PRWEB) August 04, 2013
ARME Realty.com has recently updated their search engine optimization services for real estate brokers to include an expanded list of local business directories and social bookmarking portals.
Based in Clearwater FL, ARME Realty.com offers a comprehensive internet marketing package for professionals in the real estate and vertical industries. We specialize in developing traffic pulling websites using both proven SEO strategies and some of our own proprietary tools.
The company services not only real estate professionals in Clearwater FL and nationwide but also companies in the fields of commercial real estate, internet and entertainment, weight loss and health care, clinical pain management, and more. The company spokesperson, a Mr. Simon Landers, states, "We are the best at what we do at a $199 monthly price point that can't be beat."
Mr. Landers continues, "We combine the latest proven models and apply them easily and transparently to easily increase the visitor account. We leverage press, email, website design, lead capture, responsive template designs, custom content distribution, and more into quick and proven results."
While the company is located in Clearwater FL and can be met with in person regarding services, the firm does service clients in all of the US, Canada, UK, and Australia. For more information about ARME Realty.com and their local search optimization services for real estate brokers contact the firm at (727) 459-8841.