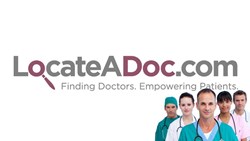 We're excited about this newest service connecting patient questions with doctor answers on our site.
Orlando, FL (PRWEB) February 11, 2014
When patients log onto LocateADoc.com they will see a new feature is available to help make their experience even more convenient. The website recently debuted its "Ask a Doctor" page, making the website a one-stop shop for browsers with medical questions.
As the premier online directory for more than 150,000 doctors across the United States, covering all concentrations in health and medicine, LocateADoc.com has built a reputation for making it easy for people to gather information and find a local doctor in their area. With the new question feature, patients are now free to ask medical questions to a wide panel of doctors through the use of a submission form online.
"We're excited about this newest service connecting patient questions with doctor answers on our site," said Glen Lubbert CEO of LocateADoc.com. "We know that having trusted information is essential in your health and medical decisions, and our Ask A Doctor service delivers with personalized answers."
Those who use the feature can feel free to ask about anything from their symptoms to the specifics of a whole host of different health and medical procedures and treatments. Once a question is answered, it is also cataloged online, allowing other users to peruse the backlog of old questions to see if anything previously answered matches their own inquiries. All doctors answering questions online are experts in their respective fields, and through clicking on links with each doctor's picture, it's possible to find information about each physician listed.
To learn more about the newly launched page, or to ask a question, visit LocateADoc.com. Interested patients can also browse before and after photos, research articles on selected procedures, and contact or find a doctor on the site.
About LocateADoc.com
LocateADoc.com is the Internet's premier location for finding great doctors throughout the country. With the click of a button, users can locate physicians in their area, see before and after photos, and read articles related to specific treatments and procedures. They can also read reviews of doctors across all concentrations and decide which one best suits their individual needs.