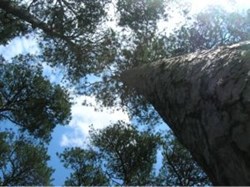 'This is a conference for local elected officials, school board members and staff, wood and grass energy vendors, and rural landowners, that want to explore opportunities for more cost effective, Chesapeake Bay friendly energy.' - Brian Becker
Farmville, VA (PRWEB) August 14, 2013
The Virginia Bioenergy Network will host a day long conference on energy from local forests and native grasses on September 10/11 at Longwood University in Farmville, VA. The "community energy" model that Germany and some other Scandinavian countries are now using will be considered throughout the day as a new economic and environmental conservation opportunity for Virginia communities. This energy can be cost-effective for hospitals and other institutions while helping to clean up the Chesapeake Bay and local rivers and streams, provide homes to endangered wildlife, and provide diversification of markets for farmers.
This day and half event will feature presentations on the types of sustainable wood and native grasses that are available in different areas of Virginia, the technologies available to utilize them, project development and financing options, policy updates, and the multiple community and environmental benefits that can be generated by using local wood and grass for energy.
According to VBN Project Manager Brian Becker, "This has been designed expressly for institutional managers to learn more about this emerging energy and local economic development opportunity".
There will be breakout sessions including market development with exciting new maps of Virginia showing promising areas for wood and grass energy, wood and grass energy policy, and public-private-landowner business development strategies. Included in the meeting will be opportunities to tour several operational facilities utilizing wood and grass energy to meet their energy demand.
The full agenda is available at: http://naturalcapital.us/bioenergy/virginia-bioenergy-network/biomass-for-energy-economy-and-nature-conference-agenda/, and registration information can be found here: http://naturalcapital.us/bioenergy/virginia-bioenergy-network/about-the-conference/.