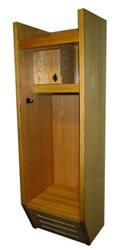 The wood sport locker is very unique. When a customer thinks of materials used for a sports locker, wood is defiantly not the first material to come to mind
Tampa, FL (PRWEB) September 20, 2013
It is fun for A Plus Warehouse to choose a new product each day to call product of the day. The product is normally extremely unique in someway. It usually stands out in a crowd. A Plus Warehouse uses product of the day as a way to convey to customers featured items. The product of the day is the best product the company has to offer. A Plus Warehouse attempts to distribute product of the day between different lines. Everyday the company chooses which product is worthy of the title product of the day. Today's product of the day is the wood sport locker. According to Ed Stairman, president of A Plus Warehouse, "The wood sport locker is very unique. When a customer thinks of materials used for a sports locker, wood is defiantly not the first material to come to mind."
As Ed mentioned, wood lockers aren't exactly thought to ever be sports lockers. This begs the question of what exactly makes a sports locker a sports locker. Sports locker is a broad term. Most any locker could pass as a sports locker. Many customers consider ventilated lockers sports lockers. This airflow allows less sanitary problems resulting. A Plus Warehouse supplies sports lockers by many trusted names such as Penco, Hallowell, and Lynon.
It should be noted that not all wooden lockers are created equal. Even they are all made of wood they all look extremely different and serve different purposes. A Plus Warehouse offers hybrid wood lockers, completely wooden lockers, kid wood lockers, and the wood sport locker. Wood is a nice touch to any type of locker.
It is now time to discuss the wood sport lockers! This item it catalyzed with a three coat finish for protection in a locker room environment. The locker top can also store bulky items such as shoulder pads. A picture of the item is shown to the right. These lockers manage to get the job done and look extremely attractive. A great feature of this product is the off the shelf stocking position. The product is also available 30 or 24 inches wide. Customers should also consider ordering end panels for exposed ends. Customers should order their wood sport lockers today.
A Plus Warehouse is the operator of http://www.apluswhs.com and distributes materials handling and storage equipment nationwide and throughout Canada. The sales staff at A Plus Warehouse is available at 800-209-8798. A Plus Warehouse has been in constant operation since 1996.