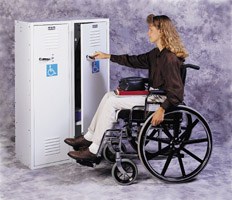 ADA lockers are not only a nice thing to do for your employees, but they are a federal mandate as well
Boston,Massachusetts (PRWEB) August 10, 2013
A Plus Warehouse sells many items including but not limited to racks, shelving, hoists, and lockers. Today the company is going to discuss one of their best sold lockers. This locker is the ADA Locker. This item is today's product of the day. A Plus Warehouse has the product of the day in order to recognize some of the company's best products. Every company needs ADA lockers. According to Ed Stairman, president of A Plus Warehouse, "ADA lockers are not only a nice thing to do for your employees, but they are a federal mandate as well." Every customer needs an ADA locker, so they might as well order this product at A Plus Warehouse.
ADA lockes are one of the many type of lockers offered at A Plus Warehouse. A Plus Warehouse offers hundreds of lockers including, Big Blue, King Cab, and army lockers. Lockers are a specialty at A Plus Warehouse. When ordering a locker from A Plus Warehouse customers get the option of shipping assembled or unassembled. Shipping assembled saves time whereas shipping unassembled saves money. The company suggests assembled for most customers because the company is an expert at assembly and does so for a reasonable rate. A Plus Warehouse stocks many great lockers from manufacturers such as Hallowell, Penco, Republic, and Lynon. When ordering a product from A Plus Warehouse, customers should feel assured that it is only the highest of quality. As mentioned earlier, the product of the day is the ADA locker.
ADA lockers are always in stock at A Plus Warehouse. For customers that are unaware of the purpose of ADA lockers, ADA lockers are lockers assessable to wheelchair bound people. It is a federal requirement to have a percentage of locker openings to be ADA compliant. A Plus Warehouse ADA lockers fill all of these requirements. The locker includes chrome plated handle, which rotates 20 degrees to open, then snaps back automatically to shut. The interior shelf in this item is 12 inches from the floor. This locker is both a nice for employees and a federal requirement. A Plus Warehouse is positive customers will not be disappointed with this item. Order one from A Plus Warehouse today.
A Plus Warehouse is the operator of http://www.apluswhs.com and distributes materials handling and storage equipment nationwide and throughout Canada. The sales staff at A Plus Warehouse is available at 800-209-8798. A Plus Warehouse has been in constant operation since 1996.