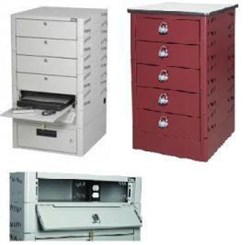 If your school, college, corporation, or whatever else uses laptops, then laptop security lockers are highly suggested. Laptop lockers will keep your equipment safe
Boston, Massachusetts (PRWEB) September 14, 2013
A Plus Warehouse is happy to announce today's product of the day. Every day the company changes their product of the day. Customers never know exactly what to expect. The mystery is the fun of it all. Many times the product of the day is a product that customers weren't even aware existed. A Plus Warehouse is a way for the company to convey information about important products to potential or returning customers. The product of the day is normally an item that the company feels deserves more attention. Today's product of the day is the laptop security locker. According to Ed Stairman, president of A Plus Warehouse, "If your school, college, corporation, or whatever else uses laptops, then laptop security lockers are highly suggested. Laptop lockers will keep your equipment safe."
The laptop security locker is found under the laptop locker section. Other items in this section include wall-mounted laptop locker and mobile laptop security cabinets. As Ed mentioned, many different groups benefit from laptop lockers including corporations and schools. It is important to store laptops in a secure location. Nothing does this job better than laptop lockers. Without these lockers, it is likely that a person may get all of their data stolen. Often times people have their whole lives on their laptop. Obviously, having it stolen will cause major problems.
The laptop security locker is shipped fully set for convenience. It can be frustrating to try to set up a product, so leave it to the professionals! Many options are also available with this locker. Customers choose between 5 and 12 openings. Customers can also choose to have the locker charging or non-charging. This item locks with a padlock hasp, key locks, or electronic locks. This decision is completely up to the customer. If a customer chooses electronic, however, locks have a 4-digit code. It should be noted that this product also comes in a rainbow of colors. These colors include sage, slate blue, burgundy, tech blue, tan metallic, light gray metallic, medium gray metallic, dark gray metallic, soft white, bone white, ivory, light gray, dove gray, gray mist, warm brown, and black. These are all beautiful colors that are visible in the company's color chart. Customers should order the laptop security locker today.
A Plus Warehouse is the operator of http://www.apluswhs.com and distributes materials handling and storage equipment nationwide and throughout Canada. The sales staff at A Plus Warehouse is available at 800-209-8798. A Plus Warehouse has been in constant operation since 1996.