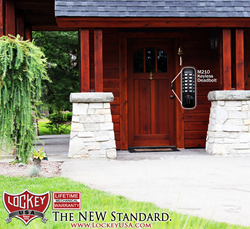 Mt. Pleasant, MI (PRWEB) July 16, 2014
Modern technology is deeply rooted in almost everything people do. From the way businesses operate, to interactions between friends and family, technology is the catalyst. Yet, the traditional lock and key, technology which has been in place for centuries, is still commonly used on homes and businesses. While most modern cars have eliminated the lock and key altogether, people have been reluctant to do so on homes, businesses and institutions. It begs the question. Why?
Today, there are a wide variety of keyless lock systems available that eliminate the need for keys. From mechanical keyless locks and stand-alone electronic keypad locks, to integrated keyless lock systems that can be monitored and operated from a smartphone or computer, the technology is now available to live key free.
Any time new technology is introduced, important questions must be asked. For keyless locks that integrate with smartphones and computers, those questions are plentiful. What happens if a smartphone gets lost? Can the locks be hacked? Are the systems affordable? These are all valid questions, with answers that may or may not be satisfying to the consumer. If a smartphone is lost, most of the systems have a key override feature that acts as a backup. The locks have security measures in place to prevent hacking, but if they are connected to the internet, it's possible. And, they are affordable, depending on budget. Prices can range from $200-$300 for a basic system to well over $1,000 for high-tech integrated systems.
LockeyUSA recognizes the convenience and technological appeal of monitoring and operating locks from a smartphone or computer. It's undeniable. However, with questions about security, reliability and affordability, Lockey remains focused on manufacturing products that offer the greatest benefits to consumers. Lockey offers a vast selection of mechanical keyless locks and a limited line of stand-alone electronic keypad locks. Lockey mechanical keyless locks can completely eliminate the need for a key, offering both security and convenience. And, with a Lifetime Mechanical Warranty, Lockey keyless locks offer reliability that cannot be found on more high-tech systems. Furthermore, Lockey keyless locks are more affordable, starting from $99 (MSRP). From keyless deadbolts for a home's front door and keyless hookbolt locks for sliding glass doors, to narrow stile keyless locks for business storefronts and keyless panic trims compatible with most panic exit bars, Lockey offers a keyless lock for most any application.
Lockey keyless locks can be purchased online, or from authorized distributors located throughout the United States and Canada. For more information on Lockey Door & Gate Security Hardware, visit http://www.LockeyUSA.com.
Based in Michigan, LockeyUSA is an American owned and operated manufacturer of door and gate security hardware including mechanical and electronic keyless locks, hydraulic gate closers, and panic hardware. LockeyUSA is committed to innovation, striving to simplify and enhance door and gate security with products that solve challenges and inconveniences associated with traditional door and gate hardware.