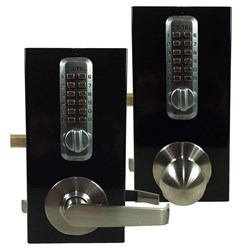 Mt. Pleasant, MI (PRWEB) January 08, 2014
Effective security involves layers of defense, and the first line of defense is the perimeter. Many homes, businesses and institutions feature pedestrian gates that are left open, do not lock, or feature low-security padlocks or chains. The Lockey GB210 Gate Kit is a logical solution that makes gate security easy.
The gate kit includes Lockey's popular low-profile M210 keyless double-combination deadbolt lock, a steel or aluminum GB210 Gate Box, and a passage knob or lever. The gate security kit offers effective access control and provides a system where users can allow passage through their gate when they want it and deadbolt security when they need it.
Whether installed on a pool gate, residential pedestrian gate or on a gate at a commercial or government institution, the GB210 Gate Kit offers a highly-reliable gate access control solution. The included Lockey M210 keyless deadbolt lock is an affordable keyless entry lock and comes standard with a Lifetime Mechanical Warranty. The GB210 Gate Kit has an MSRP of $274.95 and is available for purchase online or from LockeyUSA Distributors located throughout the United States and Canada.
LockeyUSA is a North American manufacturer of high-quality door and gate hardware, including keyless locks, hydraulic gate closers, gate latches and hinges, and panic hardware. LockeyUSA is committed to innovation and customer satisfaction, and strives to simplify and enhance door and gate security by manufacturing products that solve challenges and inconveniences associated with traditional door and gate hardware. Visit LockeyUSA.com to learn more.