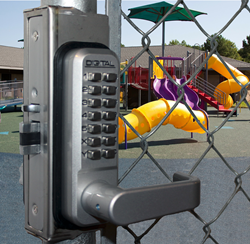 Mount Pleasant, MI (PRWEB) August 28, 2014
Effective perimeter security is a deterrent that cannot be under-valued at schools. The perimeter of any institution or business is the first line of defense against worst case scenarios, and no measure is too great when considering the safety of children. LockeyUSA manufactures a wide variety of gate security hardware that, when combined with effective fencing and complemented by other school security measures, can create truly safe environments for education.
The Lockey brand of door and gate security hardware encompasses a wide range of products including keyless door and gate locks, hydraulic gate closers, and panic exit hardware.
Lockey offers a wide variety of keyless locks that are ideal for use on perimeter gates at schools. Most Lockey keyless locks are available with compatible gate boxes allowing for nearly any type of gate to be equipped with keyless security. Many of Lockey's keyless systems lock automatically when closed, ensuring that gates are secure at all times.
However, even with an effective lock system installed, gates are only secure when they are closed. Lockey hydraulic gate closers ensure gates of nearly any size close and latch every time they are opened. The Lockey TB950 Magnum is a combined gate closer and hinge, and is a perfect solution for schools. The TB950 Magnum is heavy-duty with adjustments for both closing and latching speed. The system is welded into the bottom of a gate, ensuring there are no pinch points, and removing the risk of tampering.
Finally, while it is vital to secure the perimeter of schools, it is equally important that children and staff are capable of getting out quickly in emergency situations. Lockey Panic Shields and Panic Shield Kits allow users to convert gates into panic exits, creating free egress. Lockey Panic Shields are mounting plates for panic bars, and are also available with compatible gate boxes for Lockey Keyless Panic Trims. Lockey Panic Shield Kits are available in three different varieties, Value, Safety and Security. Security Kits are recommended for schools, and include a 24-inch panic shield, panic bar, keyless panic trim and gate box, and a panic bar cover to prevent tampering.
As another school year begins, school security must remain a major point of emphasis. Schools are invaluable institutions, and proper measures must be taken to ensure children can learn in safe and secure environments.
To learn more about Lockey Security Hardware, visit LockeyUSA.com.
###
Based in Michigan, LockeyUSA is an American owned and operated manufacturer of door and gate security hardware including mechanical and electronic keyless locks, hydraulic gate closers, and panic hardware. LockeyUSA is committed to innovation, striving to simplify and enhance door and gate security with products that solve challenges and inconveniences associated with traditional door and gate hardware.