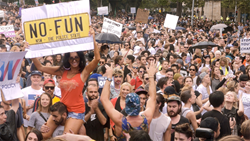 We're tired of the simplistic and hurtful measures that are being placed on our city aimed at winning a few votes.
(PRWEB) February 25, 2016
Cameraman Kearon de Clouet joined thousands of fellow Sydneysiders who braved the weather to show NSW Premiere Mike Baid how they feel about the Lockout Laws that effect Sydney's CBD. These laws are part of the NSW Government's crackdown on drug and alcohol-fuelled violence and include a NSW-wide ban on takeaway alcohol sales after 10pm. They also include no entry to certain licensed venues after 1:30am and last drinks at 3am. These laws have had a serious impact on the local community. They have been cited as the reason a lot of small businesses have closed as well as the slow death of Sydney's live music scene. Protesters are critical of the exemption of casinos from the lockout laws.
The protest was organised by Keep Sydney Open which is comprised of members of the music community. Kearon was able to film the Keep Sydney Open Rally as approximately 15,000 Sydneysiders of all ages marched from Belmore Park at the southern end of the Sydney CBD to Hyde Park calling for safe and smart solutions for Sydney instead of over-policing.
Kearon captured the raw emotion of crowd as they flowed through the streets. The faces and thoughts of Sydney were displayed in full focus. Their handmade placards and banners were a colourful representations of how they feel about not only the lockout laws and Premiere Mike Baid, but the decline in Sydney's nightlife and local music scene.
Tyson Koh, Founder of Keep Sydney Open, had a clear message. "We're tired of the simplistic and hurtful measures that are being placed on our city aimed at winning a few votes."
Kearon built a small and weatherproof rig that was perfect for a location shoot in a crowd of thousands. His combination of GH4 and GoPro was instrumental in a fast turnaround of the visual discontent of Sydneysiders' attitudes toward the lockout laws. Shooting interviews on the GH4, with a GoPro mounted on top for a wide angle on the same shot was quicker and easier than changing lenses in a crowd. At the 'Keep Sydney Open' protest, Kearon was able to make his way through the crowd with this small and lightweight setup capturing candid moments and reactions of protesters.
In an impromptu interview, Kearon captured a quote that summed up what the rally meant to DJ/Music Producer Fishplant and many of the protesters. "Today is about reopening our city, giving the culture back to the youth, and making sure they don't leave the country."