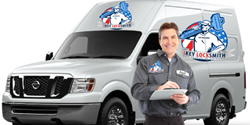 Our exceptional approach to, and passion for locksmithing has been at the heart of our strategy for building the Valley's number one 24-hour locksmith in Phoenix
Phoenix, AZ (PRWEB) December 20, 2014
Locksmith experts, Dealer Locksmith in Phoenix, Arizona, recently announced the opening of new locations throughout the Phoenix area. Locally owned and operated, the Dealer Locksmith team has a reputation as Phoenix's leader when it comes to auto, residential and commercial locksmiths.
"We offer the lowest-price guarantee and the fastest response times, 24 hours a day, seven days a week, all year long," said the company's spokesperson. "We use the latest technologies that have been proven and tested."
According to the company website, each locksmith has been background checked and is fully licensed, bonded and insured.
"We are proud and genuinely enjoy the long-lasting relationships that we have developed with thousands of residents all over Phoenix," said the company's spokesperson. "Our exceptional approach to, and passion for locksmithing has been at the heart of our strategy for building the Valley's number one 24-hour locksmith in Phoenix."
Dealer Locksmith aims to go above and beyond to ensure that every single customer is completely satisfied. That is the foundation of what the company was built on, and according to the company's spokesperson, it is what sets Dealer Locksmith apart from the competition.
Dealer Locksmith serves all areas of the Valley. Their premier mobile locksmith service comes directly to customers no matter the location, everyday, day or night.
The experts at Dealer Locksmith specialize in automotive services, such as lock out of all makes or models of vehicles and replacing lost or worn out keys. Additionally, they provide professional service for residential locksmithing, such as lock out service, new installations and lock repair. The professionals at Dealer Locksmith also provide commercial and access control services, including their popular master key system service.
Customers interested in the locksmith services from Dealer Locksmith can call them at 602-483-4447, or they can visit their website, http://www.dealerlocksmithphoenix.com. There they will find an easy online form that will begin the service process with the lowest price guarantee.
About Dealer Locksmith
Dealer Locksmith is a professional locksmith service in Phoenix, Arizona that provides auto, residential and commercial services with the lowest price guarantee and award-winning customer service. For more information, please visit http://www.dealerlocksmithphoenix.com