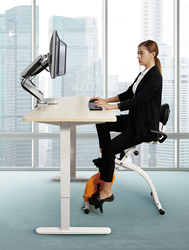 The initial response to our desk bikes has been overwhelmingly positive. People enjoy being able to comfortably exercise while they work. - Lane Xiang
Chicago, IL (PRWEB) June 07, 2016
Loctek Ergonomic, a leading manufacturer of ergonomic office solutions, will be presenting its new collection of office wellness products at NeoCon 2016. Attendees of the popular commercial interiors convention will be able to try out Loctek's new sit-stand solutions, computer monitor mounts, office fitness bikes and more at booth #7-3118. The event runs from June 13th through June 15th at the Merchandise Mart in downtown Chicago.
Loctek's booth at this year's show will present a comprehensive approach to a healthy workday. "We are encouraging office workers to sit, stand and move throughout the day. People are more comfortable and more productive when their workspace is designed to support their overall health," said Lane Xiang, CEO of Loctek Ergonomic Technology Corp.
The company will be introducing a selection of desk bikes that let people integrate low impact exercise into their normal workday. Bike options include the lightweight and foldable U1 "X-bike" or the stationary U2 model. Loctek's new laptop bikes will also be on display. These innovative new fitness products make it possible to type on a laptop or stream a video while pedaling. The desk bikes offer a practical and fun way to reduce the harmful effects of a typical sedentary lifestyle.
"The initial response to our desk bikes has been overwhelmingly positive. People enjoy being able to comfortably exercise while they work. They don't even have to break a sweat – they just need to add regular movement into their day!" Xiang said.
In addition to the fitness bikes, Loctek's new height adjustable desks make it possible to quickly transition from sitting to standing throughout the day. Available in single or dual motor models, these desks quietly adjust to any height between 29"- 47". For workstations with multiple users, the programmable digital control offers three memory settings. This and other desktop sit-stand solutions will be on display at the company's booth.
In recent years, Loctek has become well known in the industry for is ergonomic computer monitor mounts. With a booth focused on workspace wellness, the company is looking forward to demonstrating how its sit-stand technology complements its ergonomic mounts.
"We have a solution that interior designers and facilities managers are going to love. Our products are beautifully designed, cost effective and they combine the benefits of ergonomic design with healthy movement," said Xiang.
About Loctek
Founded in 1998, Loctek is a worldwide leading manufacturer of AV peripherals and office wellness solutions. The company's products feature attractive designs, impressive functionality and quality craftsmanship – all offered at reasonable prices. For more information, please visit the company's website at http://www.Loctek.us