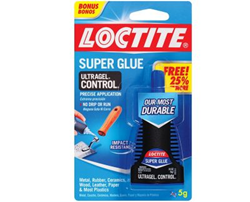 I brought some plastic hooks to hang Christmas lights. The hooks came with double sided tape which did not hold at all. I used this product, which was easy to use, in place of the tape and the hooks held for the season and probably next season too.
Farmers Branch, TX (PRWEB) January 05, 2015
TheHardwareCity.com is constantly expanding its online store with the latest and most desired home improvement products. Now, the store is delivering the new Loctite Super Glue Ultra Gel Control. The specially formulated gel glue comes in a patented bottle, allowing for maximum control and airtight storage due to its side-squeeze design.
The rubber toughened instant adhesive is ideal for the harshest conditions. It is the manufacturer's most durable solution. Loctite Super Glue Ultra Gel Control will resist temperature extremes, impact, shock, and vibration. It is able to be used in indoor or outdoor applications. The adhesive can bond rubber, ceramics, wood, leather, metal, paper, and plastics, making it a very versatile solution to many problems. It can virtually repair anything.
The gel formula allows more time for aligning pieces before it sets. This helps its user to make more accurate connections. Since it doesn't require clamping and dries clear, it can even be used for delicate applications such as repairing figurines, cameras, costume jewelry, and more. It may also be applied on vertical surfaces.
Customers of TheHardwareCity.com not only enjoy a 38% savings from retail on the Loctite Super Glue Ultra Gel Control, they also enjoy 25% extra free product in the promotional offer. To purchase the new super glue at a $4.80 shipped free, visit http://www.thehardwarecity.com/products/1363589-4gr%2B1gr-Super-Glue-Gel-Control-25%25-Extra/6281620.
About TheHardwareCity.com:
TheHardwareCity.com is a large online hardware store, which supplies the latest in home improvement tools and products. Consistently expanding its catalog since its founding in 2007, the online store is the place to order needed items for any project. Without sacrificing quality or service, many tools and supplies are offered at a price below retail. To view the company's large inventory in every home improvement department including paint and paint sundries, electrical, heating supplies and cooling, hand tools, plumbing, and more, visit http://www.thehardwarecity.com/