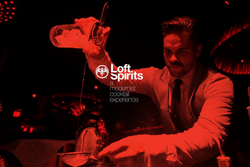 "Our goal is to attract festival-goers to not only attend the events but to stay all night long," says Karl Injex of The Sound Table Atlanta
Miami, FLorida (PRWEB) December 03, 2013
Art Base Miami has quickly become one of the world's largest premier art festivals, boasting about one million attendees from all over the globe. This year, award-winning mixologist Christian Sanders, music aficionado / restaurateur Karl Injex and avant-garde event producer Sally Golan have teamed up to launch a four night sensory-filled after-party experience at Kimpton's Surfcomber Miami, South Beach hotel.
The event, "Loft Spirits – a modernist cocktail experience", takes place December 5th-8th.The four-night event, in collaboration with Strongbow Hard Cider and Perrier Natural Sparkling Water, features a heady musical line-up matched with a custom menu of delicious hand-crafted cocktails by Christian Sanders.
"In terms of cocktails, so many Basel parties - and parties at festivals in general - tend to be less about the ingredients and quality of the drinks and more about pumping out volume," said Christian Sanders. "We are thrilled to remind festival goers that flavor, high quality spirits and unique blends are an art of their own."
All festival-goers are invited to the nightly 8 p.m. poolside events featuring an impressive lineup of established artists and DJs creating the Loft Spirits experience. Programming includes artists Radcliffe Bailey and Miguel Paredes; DJs Pat Mahoney, Rich Medina and Amir Abdullah and more. The event also spotlights art installations by Jesse Light and artists from the unconventional Baang and Burne roster, Ruch Tu and Joshua King.
"With Loft Spirits, we're out to create an immersive experience" says Karl Injex of the Sound Table in Atlanta. "We're bringing great music, high-quality cocktails and an eclectic group of people together to engage each other and celebrate the spirit of creativity that is at the heart of Art Basel."
Perrier® Sparkling Natural Mineral Water is a proud sponsor of the Loft Spirits launch during Miami Art Week 2013. "We are excited to support this exciting, inaugural-event series that brings together three things that we are most passionate about: art, music and great cocktails".
Loft Spirits specifically chose Kimpton's Surfcomber hotel as the partner venue not only for its prime location, also for its mixed-use poolside space, which can easily be transformed into a warm, sexy lounge area.
"Music, Art and Cocktails are the main focus of this one-of-a-kind event. We're proud to host Loft Spirit's pop-up experience during this year's Art Basel," said Surfcomber's General Manager Sean Flanigan.
"I'm so used to hosting wild, Avant guard style events during festivals like these", says Social Exposure founder, Sally Golan. "But with the concept of Loft Spirits, I feel like this is our chance to bring it back to basics and remind people how to actually connect during a quality party". This is Social Exposure's first time partnering with Christian Sanders and Karl Injex.
So what can guests expect overall aside from a sensory experience? A hub for art lovers, art makers, international travelers, a pool full of art by Baang+Burne, a garden of installations by Artist Jesse Light, people who want to dance, people who want to mingle and people who inspire.
To stay up-to-date on the latest partner news, follow @ExposingNYC, @SPerrier_USA
@StrongbowUS, @BaangandBurne and @KimptonInFL on Twitter.
###
ABOUT KIMPTON'S SURFCOMBER MIAMI, SOUTH BEACH
Managed by Kimpton Hotels & Restaurants, Surfcomber sits on the Atlantic Ocean's edge along 200 feet of oceanfront property in the heart of the Art Deco District in South Beach on historic Collins Avenue. With direct beach access, this newly and fully renovated hotel offers visitors to this fashionable destination a distinctively relaxed, yet worldly guest experience within a "backyard bliss" design-driven environment. The hotel's 186 guestrooms feature luxurious bed linens and bath products by European fashion designer, Etro. Guests of the new Surfcomber will enjoy a diverse mix of dining and lounge options including The Social Club, an ode to Southeast Asian cuisine served in a casual and sexy atmosphere and Surfcomber's Sandbar. Surfcomber's signature pool/beach experience includes the hotel's expansive outdoor deck with heated pool, well-appointed cabanas, and beach activities such as paddle boarding and volleyball. Surfcomber's meeting and event space can accommodate intimate poolside weddings and events, small meetings for up to 70 people, and meetings on the beach. Additional guest services and amenities include 24-hour room service, 24-hour on-site business center, fitness center, mind and body experiences with in-room and beachside massages. For more information or to book a stay visit http://www.surfcomber.com or call (800) 994-6101. Become a "friend" of Surfcomber Miami, South Beach on Facebook at http://www.facebook.com/surfcomberhotel and follow us on Twitter @KimptonInFL. Surfcomber Miami, South Beach is located at 1717 Collins Avenue, Miami, Florida.