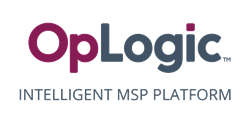 PORTLAND, Maine (PRWEB) April 22, 2019
Logically, the leading provider of Managed IT Services to small and midsized organizations, is pleased to announce the Spring 2019 release of OpLogic™, the first and only self-healing intelligent MSP platform™ that stops problems before they stop you. OpLogic is a cloud-based automation system that enables IT environments to self-heal, increasing uptime and reducing security risks. OpLogic serves as "mission control" to integrate, automate, and orchestrate Logically's managed IT deliverables.
"Small and midsized businesses face the same IT challenges as large enterprises, but often without large IT teams and resources to address them thoroughly," said Jeremy Kurth, CTO of Logically. "OpLogic levels the playing field by automating critical tasks such as incident remediation, asset management and data protection, resulting in less downtime and improved security."
OpLogic is a unique Managed Service Provider (MSP) IT management platform that supports all of Logically's managed services customers. Key features and benefits include:

Optimized performance with self-healing remediation
IT is business critical. IT performance problems create business performance problems. OpLogic optimizes IT performance through self-healing. For many critical IT issues, OpLogic detects and automatically performs remediation. This results in increased uptime, less business disruption and more productive users.

Reduced security and data loss risk
43% of cyber attacks target small businesses, yet only 14% say they are highly effective at mitigating risk. OpLogic reduces risk by auditing devices daily and automatically remediating issues to ensure they are patched, anti-virus software is running, and that backups have completed successfully.

No two businesses are the same. Only world-class MSPs can truly and reliably cater to individual company IT needs. OpLogic enables customized service delivery tuned to your environment and policies. With OpLogic, Logically tailors IT to the way YOU work.

Ensures and audits service delivery
OpLogic serves as "big-brother", watching over the delivery of critical IT services and performing customized daily reconciliations through its auditing engine. This ensures every service is delivered every day to keep you protected.

A network is only as strong as its weakest link. If a new device comes online improperly configured, your business is at risk. OpLogic detects new devices on your network and auto-provisions services according to your organization's unique standards.
In the past 30 days, OpLogic has self-healed over 9,000 incidents and validated over 420,000 backups. The OpLogic-in-action webpage provides real-time insight and transparency into key IT service management metrics including:

Self-healed incidents
Patches deployed
Back-ups
Security scans
Viruses prevented
System audits
Services verified
"Logically goes beyond the tired approach taken by most MSP's. Instead, they work with their clients from the start to deliver tailored and business-aligned systems that address all the critical IT needs of small to midsized organizations," says Mike Matchett, industry analyst at Small World Big Data. "Logically then powers implementations with their unique OpLogic platform – a fully automated and intelligent system to ensure every aspect of a client IT environment is always managed."
About Logically
Logically is the leading Managed IT Service Provider (MSP) to small and midsized organizations. We take care of your Information Technology, so you can take care of business. Since 1999, we have made IT management easy and secure for hundreds of corporations, healthcare organizations, non-profits and public sector agencies. We set the standard for responsiveness and operational excellence for organizations seeking to augment existing IT teams or outsource IT completely. Logically, powered by OpLogic™, our unique Intelligent MSP platform, cost-effectively amplifies our customers' competitiveness. We strategically implement and manage the right balance of mature and emerging information technologies that improve collaboration, security, cloud adoption, customer experiences, productivity and business results. Coupled with the support of our dedicated Care Teams, we deliver deep and complete technical expertise and customer service. As your trusted IT ally, we will run through brick walls for you. Visit http://www.logically.com to learn more.
Contact: Jeff Loeb
jloeb(at)logically.com