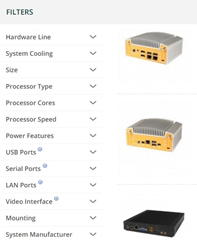 Our Solution Specialists have become very adept at matching users to the right PC, and we wanted to make some of that same expertise available directly on our website.
South Burlington, VT (PRWEB) December 10, 2015
In an effort to simplify the industrial computer buying process, rugged hardware specialists Logic Supply (http://www.logicsupply.com) has unveiled the latest addition to their industry-leading web experience, an advanced Industrial Computer System Finder. The System Finder tool allows users to select their desired features and specifications from an easy to navigate drop down menu. The tool then cross references the user's selections with hundreds of possible configurations before delivering the computer hardware options that match the desired specs.
"We're constantly on the lookout for ways to improve the buying process for industrial computer users," said Dave Lovegrove, Logic Supply head of Design and Creative Strategy. "Knowing that many of our customers search for an industrial computer with particular specifications in mind, we identified the need to create a spec-based search tool. The new Logic Supply System Finder Tool allows customers to select a computer by entering their desired system specifications such as 4 PoE ports, an Intel Core processor, and a wide temperature rating. This functionality is a first in the IPC industry and we think it has the potential to revolutionize how people shop for and buy embedded and industrial computers."
While parametric search functionality like that used in the Logic Supply System Finder has become a mainstay of many e-commerce websites, this type of user-directed search is largely absent in the Industrial Computer (IPC) space. Logic Supply System Finder filter options include everything from system cooling type, hardware footprint, and processor specifications to I/O options, mounting compatibility and manufacturer.
"Most IPC companies require users to call to configure their hardware," says Lovegrove. "Pricing and configuration options are commonly hidden, so choosing the right system for a given application can be very challenging. Our Solution Specialists have become very adept at matching users to the right PC, and we wanted to make some of that same expertise available directly on our website. We still encourage users to contact our hardware team to confirm compatibility and ideal configuration, but the new Solution Finder puts the bulk of our hardware line at the user's fingertips, allowing them to narrow their search from hundreds of hardware options to just the handful that most closely match their needs."
In a further deviation from the IPC industry norm, once users have identified the hardware that fits their unique application using the System Finder Tool, they can then configure and order directly from the Logic Supply website. Of course, users are still encouraged to contact the company should they require additional assistance in completing their configuration or purchase.
The Logic Supply IPC System Finder is available on the Logic Supply website at http://www.logicsupply.com/products/system-finder. For additional questions about hardware configurations or application specifics, Logic Supply Solution Specialists can be contacted at 802 861 2300 in the US or at +31 85 2733760 in the EU.