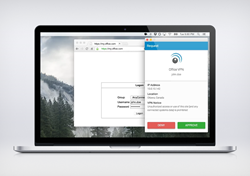 This release empowers any end-user at any organization to benefit from 2FA and from the LoginTC advantage without friction. – Hernan Matute, CEO
Ottawa, Ontario, Canada (PRWEB) April 07, 2015
The world's first non-OTP (one time password) based two-factor authentication Google Chrome app for desktops and laptops has finally arrived, as Cyphercor Inc. announces the release of its groundbreaking and sleek single-screen cybersecurity solution: LoginTC Chrome.
Thanks to this revolutionary innovation, the most simple-to-use, scalable and cost-effective high-security two-factor authentication (2FA) system on the market now boasts even easier integration into diverse corporate environments and wider reach leading to enhanced user experience. LoginTC Chrome is available in both French and English via language localisation, a feature which automatically detects the user's language preference based on his or her computer settings.
While LoginTC has always been 100% free of supplementary hardware requirements, leveraging instead existent IT infrastructure and users' mobile devices (smartphones and tablets), the new Chrome app takes that model one step further: it invites users to swap mobiles for PCs – without resorting to cumbersome and costly legacy 2FA hard tokens or PKI certificates, as well as unsecure SMS messages.
Administrator-provisioned users simply "add" the LoginTC app to their Google accounts through the Chrome Web Store. When a user logs in to a LoginTC-protected asset (e.g. VPN) with his/her first factor credentials (username and password), a second-factor access request is sent to the corresponding desktop or laptop via Google Cloud Messaging. Users Deny or Approve with the click of a mouse!
"Diverse businesses are comprised of diverse users who have a variety of habits, preferences and behaviour patterns, but everyone deserves two-factor protection. This release empowers any end-user at any organization to benefit from 2FA and from the LoginTC advantage without friction. All you need is a computer and LoginTC to rest assured that you're secure," says Hernan Matute, CEO of Cyphercor.
The LoginTC Chrome advantage:

Works with all PC platforms that run Google Chrome: Windows, OS X and Linux.
NEW: End-to-end diagnostic testing from the app itself to ensure LoginTC is fully functioning, empowering end-users to work alongside administrators toward the common goal of maximal security.
End users (e.g. employees) that do not use a smartphone for work purposes can now get the same LoginTC-grade 2-factor protection on their desktop computer or laptop. This also applies to businesses that do not issue mobile devices to employees.
Makes 2FA-enabled BYOD (bring your own device) more accessible to all prospective users, and therefore streamlines implementation.
Empowers end-users to choose between mobile or PC, which increases probability of proper and consistent user adoption thereby increasing overall security while minimizing training and administrative headaches.
Eliminates the need for a second independent device, as LoginTC creates a 1:1 link between its services and one specific computer per user, turning the paired PC into a strong second-factor credential. The result, when using a computer to log in to a LoginTC-protected account, is an elegant and safe single-screen sign on experience.
No unreliable, unsecure and geographically-limited SMS networks. No race against the clock to type in an OTP. No codes that could be copied onto other devices.
For more information on how LoginTC Chrome works, watch the video above or read this guide and visit the LoginTC Chrome page.
To learn more about LoginTC's key unique characteristics, read this blog.
Get the LoginTC Chrome app for free right now.
About LoginTC
LoginTC is an enterprise-grade, cloud-based two-factor authentication (2FA) solution that leverages virtualization and mobile investments to complement and protect existing IT practices and infrastructure. It delivers an elegant and supremely secure online experience, scalable for millions of users without significant costs. End-users install the LoginTC app on their mobile device (Blackberry, Apple, Android) or Google Chrome, converting their device or desktop into a second factor credential by loading administrator-issued tokens in the app. Future first-factor (username/password) access attempts to a LoginTC-enabled VPN or corporate application push a second factor request to the device. The rich app interface then prompts users to Deny or Approve the access request.
Companies ranging from SMBs to enterprises – including LTG Federal, Infostrada and Harlequin – as well as government organizations already trust LoginTC. This can be attributed to LoginTC's unique and sought after characteristics: no Personally Identifiable Information (PII), secure remote password (SRP) protocol protection, push notifications rather than SMS for worldwide access, and fraud detection integration with dynamic real-time CONTEXTUAL information.
Cyphercor Inc., the developer of LoginTC, is headquartered in Ottawa. For more information about Cyphercor and its solutions, visit https://www.logintc.com/ and follow on Twitter and LinkedIn.
-30-
For media or other inquiries, please contact:
Ilana Belfer
Communications Specialist
T. 613.592.5800
ibelfer[at]cyphercor[dot]com