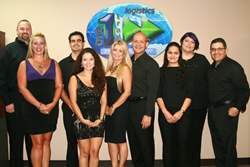 We are truly grateful to our amazing clients and employees who have made this all possible.
Dallas / Fort-Worth, TX (PRWEB) September 03, 2015
1 Trade Logistics has been serving their customer's transportation and logistics needs from their headquarters in DFW since their inception in 2005.  In 2013, 1 Trade acquired a full‐service truck fleet and transitioned from 3PL to asset‐based logistics.  Today, they celebrate their 10th anniversary and become the hub for the elite Conqueror Freight Network in DFW.
July 2005. Juan and Sol Arango had just celebrated their youngest daughter's first birthday when they sat down to tell their friends and family that they were starting a logistics company.  Juan was already working in the industry and saw an opportunity to provide greater value to his clients by starting a 3PL company.  Juan and Sol overcame their financial concerns and launched 1 Trade Logistics as business partners.
Sol Arango had always been entrepreneurial, having been in product sales, the restaurant business, and even having walked into an audition for Univision Radio without any radio experience and landing a job as a deejay on a morning radio show.  That position eventually led to doing on‐screen TV promotions with Telemundo.   She cheerfully explains that, "Passion and positive thinking can take you very far."
Juan Arango worked for years in transportation and logistics and learned every aspect of the business. This experience gave him the confidence to start a business of their own.  He says that, "It's really good to gain experience working in any industry before doing your own thing.  I'm amazed by people who think they're going to start a business with no practical experience.  It's going to take you a long time just to realize how things get done.  I'm grateful that I had plenty of practical work experience before starting this company."
Seven years into their new business – in 2012 ‐ 1 Trade received Minority and Women Business Enterprise Status from the State of Texas which opened them up to receiving certain new contracts.
In November of 2012, 1 Trade announced it had been named a Top 500 US Hispanic Business having earned $6M in annual revenue.
In July of 2013, 1 Trade debuted a new truck fleet comprised of 18‐wheeler semi‐trucks, tail‐lift trucks, and cargo vans.  The fleet currently services the Continental US from its headquarters near DFW International Airport.  At the time, Juan Arango remarked that, "The only way to make sure our clients get quality services 100% of the time was for us to be in control of not only sales and service, but to manage assets as well.  This is about being able to control the '1 Trade Logistics Experience' from end‐to‐end."
In November of 2013, 1 Trade announced it was the 4th fastest growing Hispanic‐owned company in the USA and a Top 40 Exporter.   This was especially meaningful to the Arangos, who are both naturalized US citizens.  Sol was born and raised in Bucaramanga, Colombia and came to the US as an adult in search of greater opportunities.  Juan was born in Colombia, but raised in the US.
Juan and Sol Arango attribute their 10 years of growth and success to their knowledgeable office employees, experienced drivers who are all HazMat certified by DOT, organic growth from a loyal client base, and the continued expansion of their import‐export business – especially to and from Europe, Asia, Australia, and South America.
"We are truly grateful to our amazing clients and employees who have made this all possible," Sol explained.  Juan added that, "we're grateful for a rewarding first ten years of business and genuinely excited about the future for our entire team."
On Friday, September 4th 1 Trade Logistics will be recognized by the Conqueror Freight Network as an elite member and the new hub of the network in DFW.
In celebration of 10 years of Business, 1 Trade is offering new customers 10% off their first freight shipment until 10/10/2015. Call (817) 310‐0222 for more information or visit 1tradelogistics.com/freight-rates for a freight quote.
About 1 Trade Logistics:
1 Trade Logistics is a premier, full‐service transportation and logistics company based in Dallas / Fort‐Worth, TX that provides expedited freight forwarding, logistics management, supply chain solutions, and an international courier service.  1 Trade Logistics is a member of the World Cargo Alliance (WCA), is the DFW hub for the Conqueror Freight Network, carries a Minority/Women Business Enterprise (M/WBE) and TSA Certification, and is fully licensed through the FMC, IATA, and NVOCC to name a few.  Learn more about their transportation and logistics services in Dallas / Fort‐Worth at 1tradelogistics.com