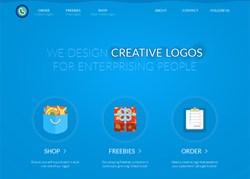 Our website is a special place where you can download some amazing free logos, because we strongly believe in helping each other
Los Angeles, CA (PRWEB) January 10, 2014
LogoLagoon, creative logo design specialists, announces the availability of many new logo designs at no charge. These professionally designed free logos are available for commercial or personal use and feature LogoLagoon's unique and aesthetically pleasing minimalist design. With new logos added often, LogoLagoon recommends subscribing to the company's newsletter to preview any new designs as they are made available.
"Our website is a special place where you can download some amazing free logos, because we strongly believe in helping each other," explains an article on the LogoLagoon site. "You can also buy ready-made logos from our dedicated shop. And of course, you have the option to work with us on developing a logo that is especially designed for your brand. We want your customer experience to be friendly and relaxed like being on a tropical holiday—that's one of the reasons we're called LogoLagoon."
Created by professional artists with a focus on a brand's audience, LogoLagoon specializes in smart logos that are creative, express a minimalist approach and are visually appealing. The site offers many pre-designed logo options that meet the needs of those looking for clever, attractive logos on a budget.
In addition, the LogoLagoon team offers custom services that tailor a design specifically to the needs and audience of the customer. Three customized packages are available at very affordable prices that include a variety of options based on a client's needs. These include multiple revisions, a variety of turnaround times, business card design and social media profile design.
With creative logo design experience across a variety of industries, the artists at LogoLagoon can not only create customized logos that specifically highlight a brand's feel and image but are also experts at creating thoughtful, interesting designs that apply to a variety of industries. The free logos and pre-designed logo options available all have an appealing, reachable feel while also expressing a professional tone.
About LogoLagoon:
Designed by a team known for their minimalist designs and ability to create unique logos specifically for a brand and their audience, LogoLagoon offers pre-designed, no cost and custom logos. Though the website and brand are just four months old, the designers behind LogoLagoon have been in business for more than three years. For more information, visit http://logolagoon.com/.