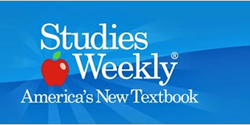 "Mr. Rickers has an amazing vision for how he wants to relate videos to topics in the curriculum for elementary students." - Loki Mulholland
Salt Lake City, Utah (PRWEB) November 22, 2014
Studies Weekly, one of America's top education-based publishers, recently hired award-winning filmmaker, Loki Mulholland, to help spearhead and direct their video production department. Mr. Mulholland, who has worked in the industry for over ten years, has received more than 24 Telly Awards and his two feature films have been awarded multiple Audience Choice Awards at various film festivals. His most recent film, "An Ordinary Hero," has appeared on PBS and at screenings hosted at special events throughout the country, most notably by the Smithsonian.
"We're just excited and honored to have Loki as part of our team," Ed Rickers, President and owner of Studies Weekly, said. "He brings a passion not just for film but for history and education as well. It must be because of his mother."
Loki's mother happens to be Civil Rights legend, Joan Trumpauer Mulholland. Joan, a white Southerner, was already a veteran of the Civil Rights Movement when she joined the Freedom Rides in 1961. She had been involved in over three dozen sit-ins and protests when she arrived in Jackson, Mississippi and was put on death row at the notorious Parchman Penitentiary with her fellow Freedom Riders. Ms. Mulholland would go on to participate in the now-iconic Jackson Woolworth's Sit-in, Freedom Summer and the March from Selma to Montgomery, and she helped plan and organize the March on Washington.
"As a filmmaker, I feel like I found a home with Studies Weekly. It's a place where I can truly help bring history to life," Loki said. "Mr. Rickers has an amazing vision for how he wants to relate videos to topics in the curriculum for elementary students. In addition to the nearly 400 videos we already have created, I'm excited to help capture the hundreds and thousands of interviews we plan to conduct to provide first-person insights from the people who actually lived the history. It's really quite an honor."
In addition to utilizing Mr. Mulholland's filmmaking skills, Studies Weekly has also partnered with his education-based foundation, the Joan Trumpauer Mulholland Foundation, to help share his mother's unique story and that of the Civil Rights Movement. They recently completed a traveling museum exhibit that will premiere, along with a special screening of "An Ordinary Hero," at the National Civil Rights Museum in Memphis, Tennessee, in January, 2015.
Reflecting on the Civil Rights Movement, Ed Rickers said, "This is an important part of American history that needs to be shared, and we're grateful that Studies Weekly has this special relationship and incredible opportunity with the Joan Trumpauer Mulholland Foundation that, quite frankly, other education providers don't have."
For more information about the Joan Trumpuer Mulholland Foundation, visit http://www.anordinaryhero.com
Studies Weekly began in 1984 when fourth grade teacher, Paul Thompson, found no state history textbook to use in his class. He decided to write a state history "textbook" in a weekly magazine format that not only would be affordable to print but also would be more engaging and fun for students.
Studies Weekly specializes in social studies and science curriculum for grades K-6, and the content comes in print and in an interactive online format. The vision is to relate the weekly lessons to a broad repository of primary record photos, audio recordings, documents and video. There is special emphasis on interviews with people from every walk of life, from U.S. presidents and other famous historical figures to small business owners, successful immigrants and anyone else who contributes to society in a way that connects with the curriculum that students are required to learn in elementary school.