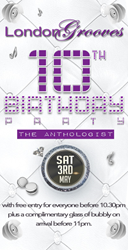 10 years on and still going strong...
(PRWEB UK) 28 April 2014
As another Bank Holiday weekend fast approaches, London clubs are busy preparing for what will be yet another weekend of great parties in the city. However no brand has more to celebrate than London Groove who will be celebrating 10years of parties in the capital this weekend.
All roads are leading to the multi-million pound venue and best kept secret: The Anthologist this Saturday 3rd May, which for the past 4years has been the home to London Groove's Soul Saturdays club night which regularly sees over 500 people visiting every Saturday to experience their weekly RnB club night.
The rich musical blend of commercial R&B, 90s old skool, 80s club classics, Funky House, Afro beats and top 40 hits from the likes of Disclosure, Rihanna, Clean Bandit to Michael Jackson, Jay Z, and a touch of line dancing to Cameo's – Candy is what attracts international tourists, residents from across the UK and RnB stars such as NeYo and Miguel to experience this unique event so it's no supprise that their motto is "it's all about 'the music which sounds better with you".
Its hard to believe that London Groove have been hosting parties in the city of London for 10years, selling out New Years Eve parties with queues stretching down the street to Soul Fridays tearing the roof off some of the West End's best bars and nightclubs in London week after week.
For 10 years London Groove have helped guests celebrate some of their most special occasion's from birthdays, stag's to hen parties and engagements, now they want you to celebrate their 10th anniversary in true style as they toast the achievement of rocking the dance floors of London nightlife from 2004 to 2014.
So don't miss free entry plus a complimentary glass of champagne before 11pm as the entire London Groove team party together and celebrate with treasured guests making it a night to remember!