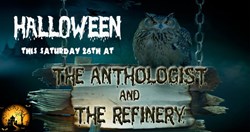 (PRWEB UK) 22 October 2013
October is almost over which means the clocks will be going back so all party animals from across night clubs in London can enjoy a well deserved lay inn thanks to an extra hour in bed.
However more important than sleep, the end of this month means its time for Halloween again, and some of the biggest Halloween parties in London town are being planned as we speak. Of course London Groove shall be hosting their annual Spookfest with x2 parties at both the Anthologist and Refinery on Saturday 26th October.
So forget partying at other R&B clubs London and head down to 'Black Magic Halloween Party' at the Anthologist dressed in your corsets, witches, devils, vampire and zombie outfits, grab your masks and fake blood to earn free entry before 11pm if your in fancy dress only.
Party no.2 will be at the popular sister venue 'The Refinery' where the theme is: The Mad Scientists Halloween Party calling all Scientist, Ghouls, Zombies and Mummies so be sure to put on your doctors outfits, grim reaper capes, nurses costumes and splash on some fake blood to really scare everyone in the club.
Only the best musical soundtrack from our resident DJs across nightclubs in London will be provided including R&B, 90's Old Skool and Party Anthems so expect everything from Thriller to Candy as we do the Electric Slide aka 'The Candy Dance' and party hard all night long.
This news release has been brought to you courtesy of London Groove who are party promoter for the London party circuit, hosting parties in four clubs every weekend plus their New Years Eve London parties in the capital.
London Groove offers exclusive guest lists plus table bookings at their four venues in London town with no minimum spend, allowing guests to fully focus on partying and enjoyment.
The bespoke agency also has a dedicated website which, aside from providing bookings, allows guests to browse the latest pictures and celebrity news from the London nightlife scene and also includes daily fashion, and celebrity gossip updates.
London Groove's club nights are the ultimate destination in the City of London, attracting over 900 party goers to their club nights every weekend and this doesn't include their three 2013 New Years Eve parties London and NYE tickets which always sell out. Their style and luxurious feel mean you can make the most of London Groove's parties and have fun in three of the city's best venues where anyone and everyone can enjoy a night of fun.
"Also, teaming up with Asian wedding photography enthusiast Rahul Khona who runs F5 Photography and specializes in Asian wedding photography in London is a great partnership and something we're looking forward to," commented Steve Prashad, Director and founder of London Groove.
For further information, you can contact Steve Prashad at steve(at)londongroove(dot)co(dot)uk.
Website: http://www.londongroove.co.uk
Phone (office): 020 8252 1574 (10 a.m. - 6 p.m.)
Phone (on the move): 07968 828 504 (10 a.m. - 8 p.m.)