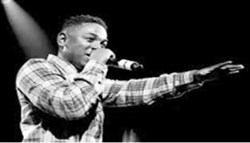 (PRWEB UK) 11 September 2013
Hip hop lovers across night clubs in London are counting down the days to see the most talked about MC Kendrick Lamar who will be headlining the iTunes festival on Thursday 19th September.
The rapper who comes 'Straight outta Compton' in California, will be spitting his clever lyrics along with smooth delivery and tight flows for an audience of lucky ticket holders fortunate enough to get their hands on the free entry which is only possible by registering online.
Kendrick's second LP, 'Good Kid, MAAD City', is heavily requested across R&B clubs in London and was one of the best selling hip hop records of 2012. Supporting Mr. Lamar at the iTunes festival will be Los Angeles' very own MC Schoolboy Q giving fans a great chance to hear what he's been cooking up.
If you love hip-hop then you know that Kendrick Lamar is who everyone is talking about especially after dropping that bomb of a verse on Big Sean's 'Control', recently dissing every rapper in the charts both over here and in the States.
So get online and try to get your hands on the free entry ticket, or miss out on a great night of rap music.
This news release has been brought to you courtesy of London Groove, event promoter for the London party circuit, hosting parties at 3 London nightclubs every weekend plus their New Year's Eve parties in London.
London Groove offers exclusive London guestlists plus table bookings at their venues, with no minimum spend, allowing guests to fully focus on partying.
The bespoke agency also has a dedicated website which, aside from providing bookings, allows guests to browse the latest pictures and celebrity gossip from the London nightlife scene and also includes daily fashion, and celebrity gossip updates.
London Groove's club nights are the ultimate destination in the City of London, attracting over 900 party goers to their club night every weekend and this doesn't include their New Years Eve parties in London and sales of New Year's Eve club tickets which are huge. Their style and luxurious feel mean you can make the most of London Groove's parties and have fun in three of the city's best venues where anyone and everyone can enjoy a night of fun.
"Also, teaming up with Cambridge photographer Clarity Events Group who provide photography services is a great partnership and something we're looking forward to," commented Steve Prashad, Director and founder of London Groove.
For further information, you can contact Steve Prashad at steve(at)londongroove(dot)co(dot)uk.
Website: http://www.londongroove.co.uk
Phone (office): 020 8252 1574 (10 a.m. - 6 p.m.)
Phone (on the move): 07968 828 504 (10 a.m. - 8 p.m.)