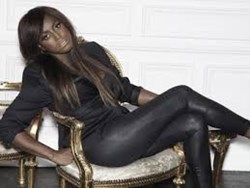 (PRWEB UK) 14 October 2013
Soul fans across Londons party scene are looking forward to seeing one of the UK's most respected power house singers often dubbed the 'UK Queen of Soul' the lovely Mica Paris.
Since bursting into the charts in the 80s with her hit 'One Temptation' and the classic Will Downing duet 'Where Is The Love', the singer has gone onto become a TV personality with Fashion programmes, Plus featured on 'Celebrity Come Dine With Me'. Her music contributions come courtesy of BBC radio shows along with appearances at the Royal Albert Hall etc so its no surprise that she is celebrating 25 years in the music industry this year.
Mica has recently finished recording her 8th studio album, produced by the legendary Rod Temperton who famously co-wrote 'Thriller' and other songs on Michael Jackson's record-breaking album worshipped across RnB clubs in London, along with the genius composer Quincy Jones.
Mica is over the moon about the soon to be released album later this year. She was also made an ambassador to the Amy Winehouse Foundation, along with Mark Ronson, Paloma Faith and Ronnie Wood to support young people in helping to prevent the effects of drug and alcohol misuse in the London community.
Be sure to purchase tickets for an evening with Mica Paris & Friends on Friday 25th October priced between £25 to £42 so book now or miss out on her best loved anthems across nightclubs in London.
This news release has been brought to you courtesy of London Groove, event promoter for the London party circuit, hosting parties in three clubs every weekend plus their three New Year's Eve London parties in the capital.
London Groove offers exclusive guest lists plus table bookings at their four venues in London town with no minimum spend, allowing guests to fully focus on partying and enjoyment.
The bespoke agency also has a dedicated website which, aside from providing bookings, allows guests to browse the latest pictures and celebrity news from the London nightlife scene and also includes daily fashion, and celebrity gossip updates.
London Groove's club nights are the ultimate destination in the City of London, attracting over 900 party goers to their club night every weekend and this doesn't include their three 2013 New Years Eve parties in London and NYE tickets which always sell out. Their style and luxurious feel mean you can make the most of London Groove's parties and have fun in three of the city's best venues where anyone and everyone can enjoy a night of fun.
"Also, teaming up with Indian wedding photography enthusiast Rahul Khona who runs F5 Photography and specializes in Asian wedding photography in London is a great partnership and something we're looking forward to," commented Steve Prashad, Director and founder of London Groove.
For further information, you can contact Steve Prashad at steve(at)londongroove(dot)co(dot)uk.
Website: http://www.londongroove.co.uk
Phone (office): 020 8252 1574 (10 a.m. - 6 p.m.)
Phone (on the move): 07968 828 504 (10 a.m. - 8 p.m.)