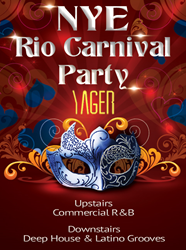 london Grooves Yager Bar Rio Carnival Party
(PRWEB UK) 18 December 2014
The popular R&B nightlife brand London Groove is returning to Yager Bar for its 4th NYE party this New Years Eve.
Having sold out the last 3 years in a row the LG team are ready to kick start 2015 with the energy of a Rio Carnival style party in the City of London.
Yager Bar opposite the historic St Paul's Cathedral is truly a staple venue for R&B with London Groove hosting their Soul Friday parties there every week, plus having recently sold out a special Old Skool party at this classy venue last month London Groove are set to make this a New Years Eve party to remember.
London Groove's motto is "it's all about the music which sounds better with you," and their New Years Eve Rio Carnival Party looks set to be just that with 2 floors of music.
The main room (top floor) is dedicated to commercial R&B and party anthems whilst downstairs LG resident DJs will be keeping the crowd energised with Deep House and Latino grooves.
This party will be non stop, think Chris Brown to Shakira and Bob Sinclair to Disclosure, so book now for this ticket only event and prepare to let the Carnival spirit lift you high.
Tickets are priced at £20 each plus table and booth reservations for 8 or more are selling fast so be sure not to miss out!
This release has been bought to you by London Groove Ltd, who are nightclub and party promoters putting on three club nights every weekend which are Fridays at Yager Bar and Saturday night at The Anthologist and Dado 54 which are all in the City of London.
"It's always exciting putting on a new club night or event, we're looking forward to this night and I'm sure one our customers are looking forward to attending too," quotes Steve Prashad, owner of London Groove.
For further information, you can contact Steve Prashad at steve(at)londongroove(dot)co(dot)uk.
Website: http://www.londongroove.co.uk
Phone (office): 020 8252 1574 (10 a.m. - 6 p.m.)
Phone (mobile): 07968 828 504 (10 a.m. - 8 p.m.)