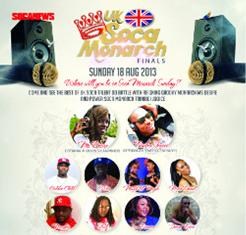 (PRWEB UK) 8 August 2013
The Bank holiday weekend and the Notting Hill Carnival is fast approaching and parties are being planned across some of the biggest nightclubs in London for bank holiday weekend.
If you're a fan of soca music and love the tropical vibrations that ooze from the culture of carnival, then why not visit the annual Soca Monarch finals being held at the infamous Scala in Kings Cross.
Some of the best UK Soca Talent will be showcasing their story telling and party invoking skills as they do battle to win the 2013 title. DJs will be spinning top soca anthems played across the London night clubs by artist such as Machel Montano, Bunji Garlin, Destra and many more whilst the cream of the crop attempt to follow in those artists footsteps.
Contestants include Golden Child, Muzik Lil Muzik, Natia Daniel, Noughty, Silva, Jonas Keeve, G Star, and many more, plus DJS heating up the dance floor after the competition has reached its climax will be DJ C Jay, QT 2Hype and special guests rocking the most talked about Soca event across Londons nightlife on the Bank Holiday weekend.
Tickets are priced at £11.25 for this huge event on Sunday 18th August so be sure to bring your friends, flags and whistles as you cheer on the local competition.
This news release has been brought to you courtesy of London Groove, for the ultimate luxury night out London Groove offers guestlists, booth and table bookings across all their venues, with no minimum spend, allowing guests to fully focus on partying.
There is also no membership requirement, making London Grooves parties some of the capital's few quality club nights open to all.
The bespoke agency also has a dedicated website which, as well as providing bookings, allows guests to browse the latest pictures from the London nightlife scene including fashion, and celebrity gossip.
London Groove's club nights are the ultimate destination in the City of London attracting over 900 party goers every weekend. Their style and luxurious feel mean you can make the most of their parties.
For further information, you can contact Steve Prashad at: steve(at)londongroove(dot)co(dot)uk.
Phone (office): 020 8252 1574 (10am - 6pm)
Phone (on the move): 07968 828 504 (10am - 8pm)