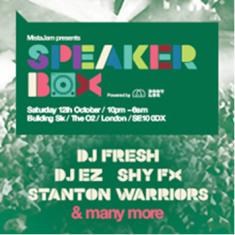 (PRWEB UK) 7 October 2013
Eclectic Music lovers across parties in London are counting down to partying at Mista Jam's rising imprint Speakerbox this Saturday at The O2.
Speakerbox has put together a winning formula of exciting club nights and quality music releases via its record label keeping it in position as a brand to be reckoned with.
Mistajam has always been at the forefront of fresh new music which he plays on his Radio 1 show broadcasted across the UK with anthems loved across R&B clubs London.
This Saturday all roads are leading to the newly refurbished Building 6 (formerly Matter/Proud 2). The line up is huge where party people in Room 1 will be entertained by: DJ Fresh & Messy MC, MistaJam, DJ EZ & MC Majestic, Shy FX, Breakage b2b Dismantle, Stanton Warriors, Dream McLean, DJ Cable b2b Decibel to name only a few.
Room 2 includes: Ray Foxx Josh Butler DEVolution SecondCity Issac Christopher and BitR8. Speakerbox is marking this inaugural night for London Warehouse Event's partnership with The O2 on their new venture - Building Six that many will remember as: Matter / Proud 2 which has been transformed into a whopping 3,000 capacity blank canvas event space that will welcome music fans from across nightclubs in London to enjoy a range of events so book now with tickets priced between £15 to £28.50
This news release has been brought to you courtesy of London Groove, event promoter for the London party circuit, hosting parties in three clubs every weekend plus their three New Year's Eve London parties in the capital.
London Groove offers exclusive guest lists plus table bookings at their four venues in London town with no minimum spend, allowing guests to fully focus on partying and enjoyment.
The bespoke agency also has a dedicated website which, aside from providing bookings, allows guests to browse the latest pictures and celebrity news from the London nightlife scene and also includes daily fashion, and celebrity gossip updates.
London Groove's club nights are the ultimate destination in the City of London, attracting over 900 party goers to their club night every weekend and this doesn't include their three 2013 New Year's Eve parties in London and NYE tickets which always sell out. Their style and luxurious feel mean you can make the most of London Groove's parties and have fun in three of the city's best venues where anyone and everyone can enjoy a night of fun.
"Also, teaming up with Indian wedding photography enthusiast Rahul Khona who runs F5 Photography and specializes in Asian wedding photography in London is a great partnership and something we're looking forward to," commented Steve Prashad, Director and founder of London Groove.
For further information, you can contact Steve Prashad at steve(at)londongroove(dot)co(dot)uk.
Website: http://www.londongroove.co.uk
Phone (office): 020 8252 1574 (10 a.m. - 6 p.m.)
Phone (on the move): 07968 828 504 (10 a.m. - 8 p.m.)