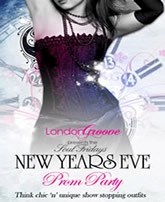 (PRWEB UK) 21 December 2013
The London Groove Winter Wonderland NYE Prom Party returns to The Refinery Bar in Southwark as London prepares for the biggest night of the year.
Music lovers and party goers from around the UK will be leaving their homes nice and early to flock to London Grooves annual New Years Eve parties in London, which are always sold out.
For the past 3 years, The Refinery has been the home to just one of many London Groove NYE parties where people party harder, dress sharper, and drink champagne.
There is no better way to kick start 2014 than at this venue in Southwark Street and is the perfect destination for 90's old school, funky house, and a healthy dose of club classics too!
Expect a warm welcome by friendly staff and security while being entertained by London Groove resident DJs spinning everything from Rihanna, Michael Jackson, TLC, Discloure, Lady GaGa and Jay Z to name but a few.
Tickets for NYE Parties in London are often expensive, however London Groove believes in offering their loyal customers fair prices at just £20 each. To avoid disappointment, book now and remember London Groove parties are all about the Music!
This release has been bought to you by London Groove Ltd, who are nightclub and party promoters doing Friday club nights at Yager Bar in the City of London plus their Soul Saturday club night at The Anthologist in the city.
With London Groove, guests can book a guest list for one of their three London Groove club nights, plus indulge in table and special area bookings with no minimum spend required, allowing guests to be completely focused on the partying experience.
London Groove's website goes beyond advertising their events and taking bookings; it's the ideal destination to get your daily dose of fashion and celebrity gossip, keeping you updated with the world of showbiz, plus sharing the latest pictures from their vibrant parties which also links to their London Groove Fan page with a community of over 10,000 likes so far.
London Groove club nights attract well over 900 parties every weekend, not forgetting their ever popular London Groove New Years Eve London parties which are always a sellout affair and already customers are snapping up their 2013 New Year's Eve tickets.
Guests can look forward to embarking on a musical journey packed with classics from the 80s, 90s, and 00s mixed with present contemporary anthems, so everything from Michael Jackson, TLC, 112, Destiny's Child, Blackstreet to Lady GaGa, Disclosure, Swedish House Mafia, Rihanna and the all-important "Candy" by Cameo ensuring everybody line dances before the night is over.
"Also, teaming up with Rahul Khona of F5 Photography who is a professional Indian wedding photographer is a great partnership and something we're looking forward to," commented Steve Prashad, Director and founder of London Groove.
Be sure to experience one of London Groove's weekly parties in the capital and prepare to book their ever popular New Years Eve London Groove tickets early before they sell out.
For further information, you can contact Steve Prashad at steve(at)londongroove(dot)co(dot)uk.
Website: http://www.londongroove.co.uk
Phone (office): 020 8252 1574 (10 a.m. - 6 p.m.)
Phone (mobile): 07968 828 504 (10 a.m. - 8 p.m.)