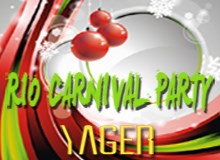 London Groove's Rio Carnival New Years Eve Party at Yager Bar
(PRWEB UK) 5 December 2013
Early bird tickets for New Year's Parties in London are selling fast and party people that wish to take advantage of these discounts need to pick their 2013 NYE destination and get booking before prices soar.
For the 3rd year in a row popular party brand London Groove is returning to Yager Bar and bringing back last year's sold out Rio Carnival Party to shake up the dance floor and bring some vibrant colours to Cannon Streets land mark venue opposite St Paul's Cathedral.
Get your early bird tickets now for this New Year's Eve Party in London that is tipped to be filled with people blowing whistles and showcasing their best tropical moves on the upstairs dancefloor to the sounds of Samba, Salsa, Commercial RnB, Deep House, and your favorite Latino Grooves, whist the downstairs lounge spins 90s R&B, hip hop classics and more.
With two DJs spinning party anthems over two floors you'll be sure to hear everything from Rihanna, Disclosure, Blackstreet, to Shakira, Jennifer Lopez, Jay Z and more.
Take full advantage of the discount and book your EARLY BIRD tickets priced at £20 each as prices shall increase to £25 very soon, so buy a vibrant outfit, think bright colours and think Rio for the Yager Bar London Groove Rio Carnival Party.
This press release has been bought to you by London Groove Ltd, who are nightclub and party promoters doing Friday club nights at Yager Bar in the City of London plus their two Soul Saturday club nights at The Anthologist in the city and The Refinery in Southwark.
With London Groove, guests can book a guest list for one of their four London Groove club nights, plus indulge in table and special area bookings with no minimum spending required, allowing guests to be completely focused on the partying experience.
London Groove's website goes beyond advertising their events and taking bookings; it's the ideal destination to get your daily dose of fashion and celebrity gossip updates, keeping you updated with the world of showbiz, plus sharing the latest pictures from their vibrant parties across London's nightlife scene which also links to their London Groove Fan page with a community of over 9,700 likes so far.
London Grooves R&B nights in London attract well over 900 parties every weekend, not forgetting their ever popular New Year's Eve parties which are always a sellout affair and already customers are snapping up their 2013 NYE parties in London tickets to party in their stylish venues.
Guests look forward to embarking on a musical journey packed with classics from the 80s, 90s, and 00s mixed with present contemporary anthems, so everything from Michael Jackson, TLC, 112, Destiny's Child, Blackstreet to Lady GaGa, Disclosure, Swedish House Mafia, Rihanna and the all-important "Candy" by Cameo ensuring everybody line dances before the night is over.
"Also, teaming up with Rahul Khona of F5 Photography who is a professional Indian wedding photographer is a great partnership and something we're looking forward to," commented Steve Prashad, Director and founder of London Groove.
Be sure to experience one of London Groove's weekly parties in the capital and prepare to book their ever popular New Year's Eve party tickets early for their three New Year's Eve London parties spread across three of the city's most luxurious venues.
For further information, you can contact Steve Prashad at steve(at)londongroove(dot)co(dot)uk.
Website: http://www.londongroove.co.uk
Phone (office): 020 8252 1574 (10 a.m. - 6 p.m.)
Phone (mobile): 07968 828 504 (10 a.m. - 8 p.m.)