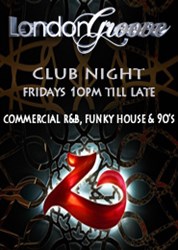 It's all about the music.
(PRWEB UK) 13 August 2013
London Groove has been a respected party brand across the capital for more than nine years spreading joy with their rich mix of classic anthems versus contemporary chart toppers loved across the London night clubs.
Venues such as Yager Bar opposite St Paul's Cathedral can bare witness to the packed parties and numerous birthday celebrations with beautiful ladies choosing London Groove to host their hen nights. Farewell parties and birthdays are just a few of the bookings every week at Soul Friday's and the infamous Soul Saturdays at the Anthologist plus sister venue The Refinery.
Now London Groove have expanded to South London's Clapham which is a playground of young professionals and party goers eager for one of R&B clubs in London most longstanding events. The chosen venue is Clapham Old Towns best-kept secret Zahra Bar downstairs from the popular Del'Aziz restaurant and bar.
As you walk downstairs, be prepared to enter a world of middle Eastern glamour, distinctive yet lavish décor with Turkish style wallpaper and quality furnishings providing an intimate setting for a feel good London Groove.
Resident DJs will be mixing an eclectic blend of commercial R&B, Funky House, Old skool club classics, not to mention timeless 90's anthems blending everything from Rihanna, Disclosure, Justin Timberlake to Michael Jackson, Cameo, TLC, Destiny's Child and more.
Be sure to book your table area with full details on the website, and remember sections are limited so act fast or miss out on what is set to be Clapham's ultimate R&B destination across the London parties where the motto is: 'Its all about the music which sounds better with you'!
This news release has been brought to you courtesy of London Groove, event promoters for the London party circuit hosting three R&B parties in London every weekend.
London Groove offers exclusive London guestlists, booth and table bookings at their venues, with no minimum spend, allowing guests to fully focus on partying.
The bespoke agency also has a dedicated website which, aside from providing bookings, allows guests to browse the latest pictures from the London nightlife scene and also includes daily fashion, and celebrity gossip updates.
London Groove's club nights are the ultimate destination in the City of London attracting over 900 party goers to their club night every weekend. Their style and luxurious feel mean you can make the most of London Groove's parties and have fun in three of the Cities' best venues where anyone and everyone can enjoy a night of fun.
"Also teaming up with Cambridge photographer Clarity Events who provide photography services across East Anglia is a great partnership and something we're looking forward to," commented Steve Prashad, Director and founder of London Groove.
For further information, you can contact Steve Prashad at: steve(at)londongroove(dot)co(dot)uk.
Website: http://www.londongroove.co.uk
Phone (office): 020 8252 1574 (10 a.m. - 6 p.m.)
Phone (on the move): 07968 828 504 (10 a.m. - 8 p.m.)