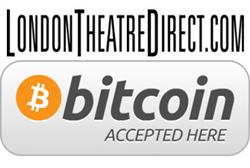 London plays, musicals and attractions tickets can now be bought using the digital currency, bitcoin...
London, England (PRWEB UK) 27 February 2014
London Theatre Direct Ltd, a leading online ticket retailer, today announced that the company is now accepting payment in bitcoin, the exciting new virtual currency.
As bitcoin and other crypto-currencies continue to explode in popularity worldwide, London Theatre Direct is leading the way in supporting the bitcoin ecosystem – providing the opportunity for people to spend their coins on some of the best theatre London has on offer – including perennially popular shows like Disney's The Lion King, Wicked, The Phantom Of The Opera, Thriller Live, Les Miserables and Mamma Mia!
Managing Director, Francis Hellyer said, "Bitcoin is an exciting, experimental, decentralized digital currency that enables instant payments to anyone, anywhere in the world. We want to embrace new methods of accepting payments online."
"Although Theatreland is typically a little slower on the uptake of newer technologies, we have been pushing very hard over the past few years to set an example to the industry by experimenting with new technologies."
"It is our belief that the costs saved by more and more people adopting payment methods like bitcoin can be passed directly on to our customers, resulting in cheaper prices and more secure, faster and more mobile-friendly transactions."
LondonTheatreDirect.com is adding value to the bitcoin ecosystem as enabling consumers to spend bitcoin on real tangible high quality products goes a long way towards bitcoin's acceptance as an actual spendable currency, instead of being a speculative investment.
Through being among the first major UK websites to accept bitcoin as payment, as well as their unwavering belief in the economy of the future, LondonTheatreDirect.com hopes to accept other emerging digital currencies in coming months.
Utilising BitPay's payment gateway solution, London Theatre Direct are proud to take their small part in promoting the adoption of bitcoin and offer London theatregoers more options to pay for their tickets.
London Theatre Direct
London Theatre Direct is a leading provider of theatre tickets. Established in 1999, londontheatredirect.com was one of the first websites to sell theatre tickets online in the UK. Fully bonded, official agents, London Theatre Direct Ltd is a full member of S.T.A.R. (The Society Of Ticket Agents And Retailers, recognised by the Society Of London Theatre, Metropolitan Police, Westminster Council and the UK Office Of Fair Trading).
London Theatre Direct connects directly to many London theatre box offices providing the full range of ticket pricing and availability.