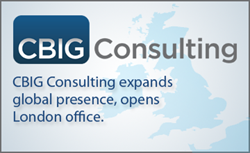 Chicago, IL (PRWEB) November 19, 2014
International Big Data / business intelligence firm CBIG Consulting announced it has again expanded operations, now serving the U.K. region with the launch of its first office over the pond in London, England. Gerard Skybey, Chief Operating Officer for CBIG's Asia-Pacific region said CBIG is responding to increased client demand stemming from record technology sector growth as well as recent government investments to help fund business innovation throughout the U.K. region.
CBIG plans to migrate what Skybey termed "the world's best LeanBI agile delivery method" over to the U.K. market, combining it with CBIG's expertise in Cloud-based anayltics and Visualization technologies that were conceived, developed and deployed successfully in the Asia-Pacific region in recent years. Skybey stressed that positive LeanBI results especially resonated with customers who were able to measure the qualitative impact they've been looking for in BI and Big Data without the significant upfront investment of past BI and Big Data implementations.
Skybey added, "CBIG looks forward to forging new customer and partner relationships as we establish a physical presence in this exciting, historic part of the world, and believe we are perfectly placed to help U.K. organizations progress their BI initiatives."
About CBIG Consulting:
CBIG Consulting is an international team of experts in Business Intelligence, Big Data Analytics, Data Warehousing, and Cloud-based Analytics platforms. Named a top BI and Big Data analytics firm by independent research firms and publications, CBIG's analytics consultants average fifteen years of direct experience in the field. CBIG works with global enterprises, mid-size businesses, and non-profit organizations in solving mission-critical reporting and analytical needs. CBIG is headquartered in the Chicago, IL, area and has additional offices in San Francisco, Boston, Denver, Austin, Raleigh, and Seattle in the U.S.; Sydney and Singapore serving the Asia-Pacific region; and London serving the United Kingdom. For more information, please visit http://www.cbigconsulting.com.