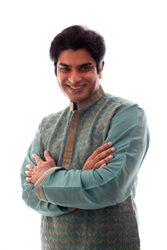 Discover The Ancient Secrets To Super Charging Your Energy Levels And Attaining A Calm, Focused & Stress-Free Mind … All In 1 Day!
London, United Kingdom (PRWEB UK) 17 June 2014
Have a stress-free summer as Mywisdomclub.com comes to London for an exclusive 1-day meditation seminar with World-Renowned mentor and spiritual leader, Sanjib Mukherjee.
On Sunday, June 22nd, 2014, International meditation expert, Sanjib Mukherjee is hosting a one-day live workshop intensive in Central London, where he will be mentoring a small, intimate group of busy individuals on how they can take complete control of their mind and emotions to live a life of stress-free abundance. He promises to teach you how to gain supreme control over your mind and emotions, and be bursting with energy in the fastest time possible.
Over the past 15 years, he has personally coached thousands of high achievers from across the globe on how to not only create huge personal and business success for themselves, but more importantly experience true happiness and inner peace. He is looking especially for people who:

Have the constant feeling of not having enough time to finish projects and being overwhelmed in terms of knowing which steps to take next.
Have an unclear mind where too much energy gets dissipated in thinking about what needs done, rather than actually completing tasks.
Are exhausted from always being busy from morning till night, yet still going to sleep knowing they haven't accomplished anywhere near the amount of work that's required.
Are annoyed with dealing with negative people and negative energies who seem determined to bring them down, despite all their best efforts to remain upbeat about life.
Have a lack of will-power or self-discipline.
Have that feeling that life is passing them by, and where they are now is not where they were born to be.
Have a general feeling that they can accomplish so much more, and the world is yet to see the full extent of their talents and even worse, the frustration of seeing people much less able than them moving ahead in life and compounding the feeling within that they should be accomplishing so much more, so much faster.
He believes that the ancient sages of the East were masters of understanding the nature of the mind and the study of consciousness which goes with it. They understood the inner mechanics of why our mind behaves a certain way and how these issues could be addressed so people can always maintain their centredness and inner peace. This precious knowledge has been gathered over several millennia, through numerous scriptures and been passed down through the ages as a blessing for all.
The wisdom is easy to understand in the hands of a skilled teacher and once the knowledge is acquired, along with some very practical tools and techniques, life will immediately improve and happiness will instantly soar. Meditation is one of the key aspects of this wisdom, as it enables normal people to use their own mind to quieten itself down. Meditation gives so many benefits including:

Absolute clarity when making decisions
Laser-focused concentration
Removal of stress & anxiety
Super confidence
Sharpened intuition
Get a proper night's sleep
Improved creativity
Increased happiness & enthusiasm
Regain a dynamic approach to everyday tasks
Super boost your self-belief
People will be travelling from far and wide to attend this eagerly awaited seminar, including one attendee from Colombia. Paul, who is attending Sanjib's seminar for the first time is excited about travelling to see his mentor who has been coaching him by email for the last 12 months.
He says, "Life is about change and we all change, regardless of whether we want to or not. To make these changes effectively, you need the right tools. Sanjib is a special teacher; he genuinely cares about you and if you are looking for an answer or a direction in life, Sanjib has the wisdom AND the practical tools to help you find it."
And Blair, who has seen the great man before offers some useful information on what first-time attendees can expect,
"Life is an adventure and to live to the full, you need to discover where your place is. I particularly like the group mastermind sessions where Sanjib uncovers your values and leads you to understand what your perfect life could look like. Your energy levels will automatically increase and you will be flying for days afterwards."
Simply go to MyWisdomClub.com/Event, and you can register straight away.
Meditation 1-Day Workshop Intensive
Sunday 22nd June 2014
(8.30 a.m. registration)
9 a.m.- 5 p.m.
Grand Connaught Rooms
61-65 Great Queen Street,
London WC2B 5DA