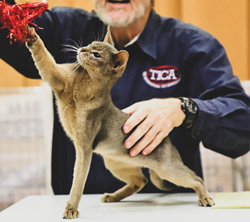 LONDON (PRWEB) April 03, 2019
A London Based Cat Company are pushing aside the out-dated cat show and are taking over London with a revolutionary event they call a 'Cat Extravaganza'.
This May 04/05 in Tobacco Dock they will feature over 50 cat breeds, 7 international judges, food and drink from London's best food trucks and Instagram's cat celebrities, this is a cat show like visitors have never seen before! Shake off the preconceptions of old ladies, white coats and clipboards before hearing about the biggest cat expo in all of Europe and the first event of its kind in the UK…
Traditionally, the cat show is a fairly private affair. With judging done in secret and little for the general public to enjoy. LondonCats is associated with TICA (The International Cat Association), an organisation which accepts over 70 different breeds of cat worldwide. TICA is also growing their Household Pet exhibitors with prestigious trophies to be won by the unassuming moggie.
Want to get involved in cat showing without a pedigree cat? TICA has the largest registry of household cats. Everyones' moggie could be the next superstar! This event is truly all inclusive and changing the face of the cat fancy.
TICA judges are flashy, flamboyant and super interactive with their audience. At the LondonCats International Show there are 7 judging rings that play host to prestigious judges from all over the world. Here they talk through the secrets of the most beautiful cats in the world to over 200 spectators at a time. LondonCats founder Steven Meserve is a TICA judge and making waves for his forward thinking:
The cat show won't be the only entertainment of the weekend. There is also a cat agility where visitors can watch cats jump through hoops and doing tricks or meet a real cat celebrity guest like James Bowen and a Street Cat Named Bob while enjoying some street food from one of the many gourmet food trucks.
For those who want to give something back to their beloved four-legged friends there will be plenty of ways to spoil them with treats and gifts from a multitude of vendors; PurrForm Premium Raw Cat Food, Basil The Bionic Cat, the internationally renowned cat blogger Katzenworld, Auto Pet, Dr. Elsey's and lots more.
The show will be open to the public from 9am to 5pm on both Saturday and Sunday.
Tickets are available on the door or online, from the LondonCats website.
LondonCats International Cat Show
4th & 5th May
Tobacco Dock – London