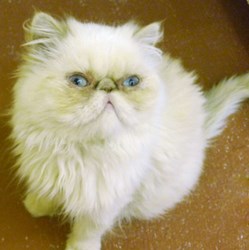 "Bebe was found in the area you described, near a fence with flowers at the bottom. She's back home now and her escape routes have been sealed. Thank you so much." ~Catherine
London, England (PRWEB UK) 24 September 2013
Two London pet owners successfully used an animal communicator more than 6,700 kilometers away to find their pets. Thanks to technology and information provided by Tim Link in the United States, two families in the greater London area recently found their lost cats, Colin and Bebe.
After being in a new home only two days, Claire's cat, Colin, wandered off. With the new surroundings, Claire was concerned that he wouldn't recognize his new home. Prior to this incident, Colin had been missing for ten months and had only recently returned. After communicating with the cat, Tim told Claire, "Colin is staying in an alley not far from home. He seems to get sidetracked and fascinated by things around him—he's not at all scared. I'll see if I can convince him to return home."
Later that day the tomcat showed up outside a door of his new home—one that he had never been through before—and was rewarded with a big bowl of his favourite food, served up in the garden. Claire commented, "Colin is a stubborn cat and prefers to be outside. I would have been devastated if he was lost again. I'm so thankful for Tim's help!"
In early September, Catherine contacted Tim about Bebe, her Persian/Siamese mix. When Catherine set recycling items outside before going to bed, the cat slipped through the open door unnoticed. Catherine didn't realize Bebe was missing until the next morning. Catherine said, "Bebe is scared of strangers, but she is especially nosy and frequently gets into tiny spaces. She is a very small cat—even though Bebe is five years old, people often assume she is a kitten."
Catherine contacted Tim and three days later a neighbour called to report seeing Bebe under a parked car—in the general area that Tim pinpointed using map dowsing.
Catherine said, "A neighbour called us after seeing Bebe hiding under a car in the driveway next to their home. This is in the area you described, near a fence with flowers at the bottom. I quickly went over there, got on all fours, and shone my torch under the car. Bebe let out the most pitiful meow—a combination of surprise, shock, relief! She is back home now and her escape routes have been sealed. Thank you so much."
Pet owners provide Tim with their pet's name and gender, a photo of their lost pet, their home address, the last address their pet was seen, and the date their pet went missing. After communicating with the animal, Tim relays images, colors, smells, sounds, and feelings described by the pet. In addition, he uses map dowsing to identify the general location where the missing pet is exploring, trapped, or hiding.
The practice of dowsing was introduced into England during the reign of Elizabeth I (1558-1603) to locate mineral deposits. In modern times, dowsing has been used to detect water for wells, mineral deposits, archaeological artifacts hidden in the earth, and for finding lost objects. Paired with a map where a missing pet was last seen, Tim uses dowsing to determine the general location of the animal.
Tim advises pet owners on additional steps they should take to spread the word about their missing pet. This includes alerting neighbours and putting up signs in the area where their pet was last seen. Tim says, "The sign should read 'REWARD' at the top, have a recent colour picture of the animal in the middle, and a mobile phone number in a large font at the bottom. It is very important NOT to list other details, as it makes the sign difficult to read from a distance." Visit http://bit.ly/LostPetTips for other important tips for finding your lost pet.
While no pet communicator can guarantee that a lost or missing animal will be found, Tim comments that pet owners who contact him quickly increase the chance of a successful return. Even small animals can become disoriented and wander ten kilometers in a day or two. Tim says, "Cats (and dogs) go into survival mode the longer they are lost. However, don't lose hope if your pet has been missing for a while. Even though the success rate is greater the earlier I'm contacted, pets can still be found that have been missing for weeks or months."
Tim specializes in finding lost pets—many in cities and countries he has never visited—and has worked with clients in Australia, Europe, Hong Kong, Mexico, Canada, and India, as well as the UK and throughout the United States. He attempts to schedule lost animal consultations within 24 hours of receiving confirmation of payment for a Lost Pet Consultation. This 24-hour policy includes weekends, most U.S. holidays, and evenings.
Have a lost pet or need help determining the cause of behavioral problems of your pet? Contact Tim Link through http://www.wagging-tales.com. Tim has been featured nationally and internationally on television and radio programs, is the author of "Wagging Tales: Every Animal Has a Tale," and is a regular contributor to Dogster and Catster on-line magazines. In addition, Tim hosts Pet Life Radio's "Animal Writes" show where he interviews best-selling pet-related authors and award-winning journalists who write about animals.
###
Photos attached. Tim Link is available for interviews.