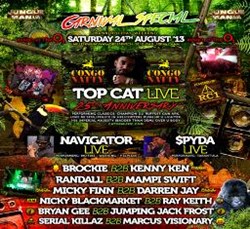 (PRWEB UK) 16 August 2013
Jungle lovers across the London nightlife scene are over the moon about the resurgence of Drum n Bass dominating parties in the capital and national charts with acts such as DJ fresh, Rudimental and many more having top 10 hits.
Not since the 90's has Jungle/Drum n Bass music celebrated chart success or sold out raves as the genre was pushed back underground after General Levi, Shy FX to name only a few were leading the record sales. However, trouble plagued the genre with a few crimes such as fights, etc., occurring at various parties across London clubs and warehouse raves leading the media to print negative headlines similar to what they did with Acid House raves in the 90's and UK Garage in the 2000's.
Now, Jungle Mania has re-emerged not only as top selling compilation but re-promoting the party brand, clothing, mixes, events and a documentary telling the tale of how over 20 years, this event has stuck to it's guns with a loyal fan base as proof. Lovers of Jungle music will be flocking to the Indigo2 to see Top Cat, Skibadee, Ragga Twins, Brockie, and many more pioneers of Jungle sharing the stage for one huge night on Saturday, 25th of August at the IndigO2.
Classics such as: Champion DJ, Helicopter, Push Up U Lighter and many more will be performed and spun by old skool DJs from across nightclubs in London, so book your tickets now priced at £17 in advance.
This news release has been brought to you courtesy of London Groove, event promoters for the London party circuit hosting three R&B parties in London every weekend.
London Groove offers exclusive London guestlists, booth and table bookings at their venues, with no minimum spend, allowing guests to fully focus on partying.
The bespoke agency also has a dedicated website which, aside from providing bookings, allows guests to browse the latest pictures and celebrity gossip from the London nightlife scene and also includes daily fashion, and celebrity gossip updates.
London Groove's club nights are the ultimate destination in the City of London, attracting over 900 party goers to their club night every weekend. Their style and luxurious feel mean you can make the most of London Groove's parties and have fun in three of the Cities' best venues where anyone and everyone can enjoy a night of fun.
"Also teaming up with Cambridge and Huntingdon photographer Clarity Events who provide photography services across East Anglia is a great partnership and something we're looking forward to," commented Steve Prashad, Director and founder of London Groove.
For further information, you can contact Steve Prashad at steve(at)londongroove(dot)co(dot)uk.
Website: http://www.londongroove.co.uk
Phone (office): 020 8252 1574 (10 a.m. - 6 p.m.)
Phone (on the move): 07968 828 504 (10 a.m. - 8 p.m.)